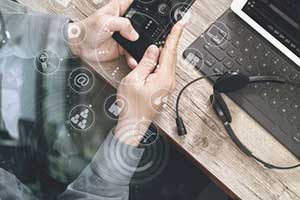 Nobody working at a small business likes making that dreaded call or email request to their IT Help Desk. It invariably means something has gone wrong and is hindering your working day. Also, depending upon your IT Help Desk and your company's methods of dealing with problems, it can be a time-consuming and frustrating experience. In this blog post, we'll give you some valuable tips on how you can best prepare for and approach your next IT Help Desk contact to make it a more efficient experience on both sides.
1. Check Out the FAQ and Other Resources First
If you're having what seems like a fairly common or straightforward IT issue, it makes sense to take a moment and check out the Frequently Asked Questions (FAQ) section of the IT partner or vendor's website to see if there are any general answers or information that can help you resolve the issue before contacting the Help Desk. This is generally more relevant for larger IT solutions and software companies, however, most IT Support companies offer their customers assistance and education through blogs, resource centers, and client portals. These helpful sections normally contain articles and how-to videos discussing common IT issues and resolutions. In addition, they also feature webinars, white papers, eBooks, and case studies that will help your small business better understand and work with IT.
Although there is a lot of information available, remember one critical piece of advice stressed by IT Help Desk veterans to their customers: Don't ever be hesitant about contacting them as they're in business to help you!Importantly, it often makes sense to talk to someone in person to better understand the issue and find the right solution. This is especially true in the event the problem is more complex, as an untrained attempt to solve a problem can result in even more issues. If it takes more than a few minutes of research on an IT partner's website, your time would be better spent directly contacting the IT Help Desk. In short, it's important to realize that when in doubt, contact your IT Help Desk for assistance.
2. Be Prepared with Essential Information
When you make contact with your IT Help Desk, make sure you first identify yourself and your company and any account number if necessary. Next, calmly take your time explaining your issue. It's ok to use layman's terms as the technician will not expect you to use tech lingo or know any complex IT specifications; that's their job. However, it is helpful to give an overview of the problem and, if possible, provide general information about your workstation equipment model, Windows operating system version, software version, printer model etc. It is also very helpful to provide a previous ticket number, if this is a specific, recurring problem. Please be careful, however, about reopening a ticket if not necessary as discussed later.
If your IT Help Desk is fortunate enough to have a technical dispatcher, like at Network Depot, they will take the time to ask you some relevant questions that will help identify the type of problem it is and its complexity. They will then identify the right technician for your issue and brief them on the situation before connecting you for help. By the time you are transferred to your technician, they will have already started completing the task.
3. Be Courteous
Although it is understandable that you will not be in your best mood when you are calling about an annoying IT issue, please take a moment to realize that you will be dealing with another human being, who is on your side and wants to help you. There is nothing to be gained by getting upset with someone as soon as they pick up the phone or respond to your email. Valuable time on both sides is lost when a customer spends their time complaining about a problem instead of explaining the situation and letting the IT Help Desk get to work. In short, let the IT experts do their job, so that you can get back to doing yours!
Always remember that your IT Help Desk team members are fully aware that you are frustrated and need assistance and they will work hard to rapidly find a solution.
4. Be Patient and Reasonable
In our fast-paced society, there is one quality that is becoming ever more difficult to find: patience. Rest assured that every Help Desk technician understands well that you time is precious and that you would much rather be working to fulfill your company's core objectives. Every effort will be made to assist you as quickly as possible, but sometimes there are situations beyond anyone's control. For example, if there is an event affecting many of the company's clients simultaneously, there will understandably be a dramatic spike in help requests.
In the same vein, please always try to remain reasonable in your IT service expectations. Most IT Help Desks are designed to work on issues using a triage-type system, which delegates tickets to the proper technicians and assigns a level of urgency to each problem. Also, there are obviously some complicated issues that are more difficult and time-consuming to resolve. For these reasons, please be reasonable about when to expect your ticket to be completed. For example, a cybersecurity issue or internet outage will clearly take precedence over minor problems and will take more time and effort to resolve.
5. Don't Reopen an Old Ticket
IT Help Desk veterans vigorously stress this advice: Don't try to reopen an old ticket whenever possible!There is nothing more frustrating for IT Help Desk personnel than when a client tries to reopen an old service ticket, such as by emailing or calling the technician that assisted them on a specific problem a while back. This is especially unhelpful when the current problem is unrelated to the original issue or only tangentially involved. This action is ineffective, as more than likely, the original technician will be working with a customer on another ticket or otherwise unavailable. Also, these requests can be lost or delayed because they are not officially assigned a ticket number in the proper format.
For these reasons, it is always recommended to start a new ticket via phone, email, client portal or any other method when contacting an IT Help Desk about a new issue.
Armed with these helpful tips, your company will be better prepared when you contact your IT Help Desk, making the experience more efficient on both sides. These recommendations will make it easier for the IT Help Desk team to promptly resolve your issue and enable your employees to quickly return their focus to your company's core mission.
For assistance with your IT Help Desk and any other IT-related issues, please contact us here at Network Depot.