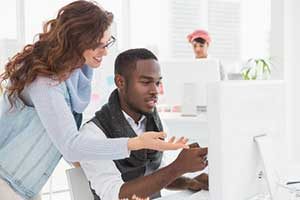 It's National Small Business Week! At Network Depot, we not only work with local small and medium-sized businesses in Northern Virginia, Maryland, and the Washington DC metro areas, we are one. So to celebrate ourselves, our clients, our friends, and all the other SMBs out there, we are going to share with you 7 things we love about small businesses.

1. Talking to Real People
Raise your hand if you hate talking to an automated phone answering machine. I don't know about you, but both of my hands are up really high. Now, it is one thing for there to be an automated menu to help you get to the right department or the right person, but when you have to go through troubleshooting steps with a robot (like certain cable companies I know) it can get really frustrating.
To be able to actually talk to a real person when you call up a company is a wonderful thing. And the truth is, most small and medium-sized businesses will allow you to do that because they don't have an overwhelming volume of calls that make it too difficult. Talking to a real person also helps you feel valued and understood- which is why I think we're starting to see many big companies jump on the "real people" bandwagon.
2. Forming a Relationship
When you are dealing with a small business for something (healthcare, IT support, interior design, etc.) you are likely going to talk to them multiple times over a long period. That means there is the opportunity to form relationships with the people you are talking to. That familiarity helps build up trust and understanding, two very important things for an SMB.

3. Access to Everyone
Have you ever tried to get in touch with the CEO of a major company? (Think Verizon or Microsoft). Chances are you haven't- and if you have, did you have any luck with it? I would bet not.
Huge international corporations have very large and strict hierarchy maps, due mainly to the fact that they receive such a huge volume of calls and clients every day. It would be impossible for the CEO of the company to really be involved with the day-to-day operations. You may be able to reach a supervisor and/or manager, but I doubt you will have much luck trying to talk to the CEO.
In a small company, while there may be a great system in place to cover the day-to-day operations (so that the CEO doesn't have to worry), you will still see the owner of the company involved, at least to some degree. They will be available to talk to clients, pitch in when needed, and continue to help with the growth of the company.
4. Wear as Many Hats as You Want
Dealing with a small business is great, and so is working for one. As an employee at a small business, I have to say that one of my favorite parts is the opportunity to wear many different hats. The chance to be involved in different departments and try out many different things provides wonderful experiences that will only help you learn and grow in your career. Plus, it keeps the days from getting boring.
5. Personal Investment
I think that people who work for small businesses tend to have more of a personal investment in the company and the future of the business. When you work in a small group, you get to see how what you do every day makes an impact on the company. You get to see how you contribute, and how what you do day-in and day-out really matters. It doesn't matter what position you're in, you know that without you, something would be missing. It's a really great feeling- it boots both your ego and your investment in the success of the company. Because really, if the company succeeds, it means you did too.
6. Transparency
This applies to both being a part of a small company, and working with one. Small businesses are never going to be able to match the prices of large companies, but the trusting relationship you build with them helps to close that comparison gap. Transparency is a big part of that trust- both for employees and clients.
7. More Fun!
People make the workplace. When you work for a small company, you really get to know everyone who works there, simply because you are spending so much time during the week with the same people. That means you are going to form friendships and working relationships with the people around you. I don't know about you, but I think there is something really great about being able to have the whole team gather in the conference room for lunch. And, when you have a great culture with your team in the office, it's going to translate to a great culture when you deal with clients, and that will only help them stick around longer.
What are your favorite things about working for or with a small business? Let us know in the comments!