Cloud IT Solutions – Welcome to the Cloud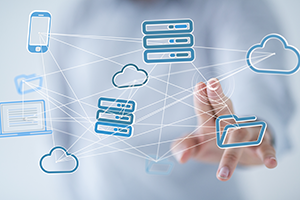 Cloud IT is the future of small and medium business technology management that greatly reduces the cost of setup and IT management overhead, letting you focus on your business and not your IT; let Network Depot handle all your cloud services.
Imagine being able to expand many of your company's capabilities without needing to purchase hardware or worry about running and maintaining it in your office. With the cloud, it is possible to get the benefits of a secure, expertly managed data center without the costs required to purchase and run your own equipment.
Free Network Assessment!
Looking for better IT Support? Fill out the form below or give us a call – it all starts with a Free Network Assessment!
Hosted IT Solutions
Get enterprise-level cloud solutions for affordable small business prices.
Network Depot's Cloud solutions can grant your business new capabilities to improve your day-to-day operations without the extraordinary start-up costs associated with new technology.
Our cloud-experienced technical staff can help you with:
Hosted Exchange Email
Server Virtualization
Cloud File Server
Hosted Microsoft Sharepoint
Office 365
iCloud
Hosted Sharepoint
SkyDrive
File Collaboration
Virtual Server Hosting
Private Cloud
Hybrid Cloud
Cloud Backups
Google Apps
Free Consultation
We would love to meet with you and discuss how Network Depot does things differently. Click the button below or call us at 703-810-3960 to register for a free consultation.