Network Depot provides a wide variety of Silver Spring IT services. The company has been in the industry since 1991. During this time, it has grown into the top provider of reliable and professional IT support services to businesses operating in the local area.
The team of IT experts working for our company usually collaborates with clients to implement various enterprise-level IT practices and solutions befitting our clients' requirements. The company has been in the industry so long that it is not surprising that it has established a strong reputation for its flat-fee IT services, customer service, and many other proactive solutions.
Flat-Fee IT Support and Management
The IT support philosophy at Network Depot is based on flat fee rates. We never charge for the small service requests received from our clients. When a new client comes on board, our IT experts will evaluate the overall hardware, support, and software requirements to assess the applicable flat rate before providing comprehensive Silver Spring, MD IT services.
Through this plan, Network Depot has ensured its business clients can fully take advantage of the impressive IT services provided without offsetting their monthly budgets. The flat fee plan also empowers local companies to allocate funds appropriately when they are assured that their IT problems will be resolved professionally without the requirement of hourly charges.
Effective Silver Spring IT Support Services & Support Solutions
Network Depot provides IT support services to protect our clients from fewer hardware and software issues, limited downtime, and improved business operations.
24/7 Access to IT Experts
Network Depot's proactive approach is a cornerstone of this IT company. We offer comprehensive support and full access to responsive help desk and IT support teams. This way, clients can receive solutions to their problems on an as needed basis.
Comprehensive IT Support Services
Network Depot has been in the industry long enough to know what is needed to solve the various requests clients make. During this time, the company has developed a strong infrastructure that it relies upon to efficiently provide reliable Silver Spring, MD IT services.
As a direct result, our clients operate better knowing that there are safeguards in place to protect them against the many potential issues that might arise. These flat-fee IT services in Silver Spring MD include:
Apple Support
Cloud Services
Computer Hardware Support
Data Backup & Disaster Recovery
Helpdesk
IT Consulting
IT Vendor Relation Management and Support
Mobile Office
Network Care and Security
Product Sales
Remote Monitoring and Maintenance
Software Licensing and Management
1. Apple Support
Network Depot is a certified member of the Apple Consultants Network. As such, it provides great support for iPhones, iPads, and MacBooks. The Apple-certified technicians we hire also understand the Mac environment and support all Mac-related requests from our clients.
2. Cloud Services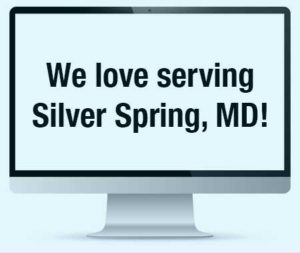 Cloud IT has greatly reduced the expenses incurred by businesses to set up and manage their IT resources. This technology management system has also bolstered overall efficiency for those companies that have adopted it. Network Depot provides cloud IT services in Silver Spring, MD through their secure and expertly-managed cloud data center.
3. Computer Hardware Support
We provide comprehensive IT consulting services, including computer hardware support. The monthly flat-fee rate Network Depot has adopted for this service is also based on the hardware owned by the individual client. As such, when appliances break, Network Depot will task a support team with the responsibility of finding, troubleshooting, and fixing all problems as they arise.
4. Data Backup and Disaster Recovery
Our Silver Spring, MD IT service takes care of the data backup and disaster recovery requests that our clients send. It also archives our clients' data and provides data restoration when and as required, even after a major disaster.
5. Helpdesk
Network Depot also provides help desk support. The professional IT support technicians at our company identify and address technical issues both remotely and on-site.
6. IT Consulting
Network Depot will review a company, find out what its technology needs may be in the future, and help it optimize its functionality, productivity, speed, and client experience to raise revenues. It also streamlines tasks by implementing the best technological enhancements the company needs to improve its everyday processes, such as thorough automation.
7. Virtual CIO Service
The Virtual CIO service from Network Depot links IT consultants with clients for purposes of finding ideal solutions. The company additionally provides IT roadmaps for clients based on the following information:
– Budget Reviews
– Inventory Reporting
– Future Network Planning
– Organizational Computing Requirements
– Present and Future Business Strategies
– User Needs and Opinions
– Company Guidelines and Procedures
8. IT Vendor Relation Management and Support
This service links our clients with the third-party hardware and software vendors they need to solve their everyday business requirements.
9. Managed Server Care
Network Depot has a managed server care department that helps our clients run cloud and local servers so that they operate more efficiently. It manages network security, stores files, and eliminates all problems that arise.
10. Mobile Office
The company has many IT experts who are qualified to help companies identify and select the best mobile platforms and devices to set up a mobile office. These experts are well-versed in all matters mobile, and have experience working with such mobile devices as iPhones, iPads and Android phones.
11. Network Care and Security
The Silver Spring MD IT services Network Depot provides cover network care and security. The company generates inventory reports and configurations from its state-of-the-art Network Operations Center. It also tracks service responses, license expirations, serial numbers, and vendor information for clients.
12. Content Filtering
Our Silver Spring, MD IT company has innovative content-filtering solutions for the typical business. OneStepAhead gives business clients greater control over the content their customers can access. This filtering system will also detect and automatically block inappropriate content to protect customers without affecting how their IT infrastructure (computers and networks) work.
13. Hardware Firewall Solutions
Network Depot puts firewalls in place to block unauthorized access to computers and networks on the client's premises. These firewalls also provide data protection against virus and malware attacks.
14. Product Sales
The product sales team at Network Depot meets the IT requirements of its clients. Companies order equipment through this firm, and when the equipment arrives, it is set up and pre-installed as required. In particular, this firm has been working extensively with:
Dell
SonicWALL Firewalls
HP
Lenovo
Cisco
Microsoft
QuickBooks
Salesforce
15. Remote Monitoring and Maintenance
It is also interesting to note that Network Depot installs the monitoring software clients need at their workstations and servers. When the software detects unnatural behavior, it will trigger notifications that the company's IT technicians will immediately respond to in real time as a means of protecting the client's IT resources.
16. Software Licensing and Management
Companies need to buy the licenses that will allow them the ability to run the latest versions of software tools they use. Network Depot makes this possible by managing the software licensing requirements of our clients as part and parcel of our general Silver Spring, MD IT services.
Contact Us
There are many other Silver Spring IT services that Network Depot provides to small and mid-size companies in the local area. All of these services are provided through the firm's innovative and cost-saving flat-fee plan. To learn more about these services or to get a free, no-obligation quote, get in touch with Network Depot today by calling or sending us a message online.