To stay healthy and productive, every hard-working manager or employee working for a small business or nonprofit organization needs to take some time to recharge their batteries. With the stress of the last couple of years and with spring starting to slowly turn into summer, we thought it would be an ideal time to offer recommendations for stress relief and rejuvenation in the form of some interesting day trip destinations from Washington, DC.
Chesapeake Bay Maritime Museum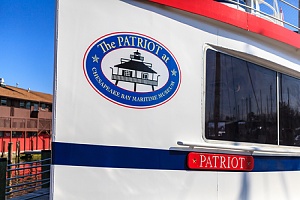 Located in the picturesque harbor town of St. Michaels, MD, the Chesapeake Bay Maritime Museum is home to the largest collection of Chesapeake Bay boats in the world. These types of boats have supplied a bountiful harvest from the bay, including Maryland's famous blue crabs, for generations of seafood lovers.
The museum is located on an 18-acre waterfront lot with a floating fleet of historic boats as well as museum buildings with interactive exhibits designed to entertain the whole family. There are also scenic river cruises available aboard a comfortable boat built in 1920 and guided walking tours of the museum's exhibitions.
Ladew Topiary Gardens
These eye-pleasing gardens, located in Monkton, MD, are an ideal escape destination for lovers of gardening and artistic presentation. This site has twenty-two acres of impressively landscaped lawns and ornamental gardens featuring more than one hundred topiaries (trimmed and shaped ornamental plants).
Visitors can also enjoy the historic manor home, a seasonal butterfly house, and a scenic 1.5-mile nature walk.
Luray Caverns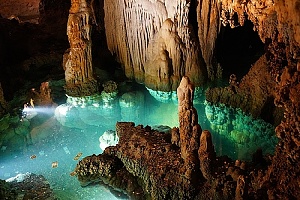 Located in Luray, VA, Luray Caverns has been a source of wonder for visitors since its discovery in 1878. This U.S. National Landmark is the largest cavern in the eastern states.
Guided tours along lighted, paved walkways allow visitors to marvel at cathedral-sized rooms ten stories high featuring otherworldly rock formations and brilliant colors. Highlights include the Dream Lake, which perfectly mirrors back the stalactite formations above as well as performances on the world's only stalacpipe organ, composed of stalactites that are tapped to create a unique echoing sound throughout the caverns.
Before or after the exhilarating tour of the caverns, guests will also enjoy visiting the Car & Carriage Caravan Museum, Toy Town Junction, and the Shenandoah Heritage Village located onsite.
American Visionary Art Museum
This eccentric art museum located in Baltimore has three buildings full of "self-taught, intuitive artistry" created by everyday Americans. This museum features an endless variety of non-traditional art with a focus on quirkiness and humor. The pieces include sculptures, paintings, relief works, and many works that defy any traditional classification. There are also some exhibits that focus on art with political messages.
This museum is a great destination for those who like to experience the unusual.
Shenandoah National Park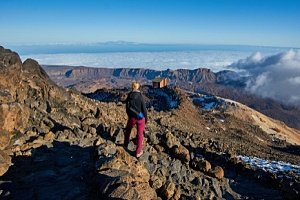 This massive testament to nature's beauty stretches 105 miles from Front Royal to Waynesboro, VA. Visitors can enjoy the wonders of the Blue Ridge Mountains with a great variety of activities throughout its 200,000 protected acres such as hiking, rock climbing, horseback riding, fishing, birdwatching, and biking.
Ranger-guided programs available include narrated tours of trails and mountain meadows, stories of the Shenandoah Valley's interesting history, and educational talks about the animals and plants in the park.
The park also features Skyline Drive, a paved route that allows visitors to traverse the entire expanse of the majestic park from the comfort of their vehicles at a relaxed thirty-five mph. The winding drive features breathtaking views of the mountains and valleys as well as frequent encounters with songbirds, deer, wild turkeys, black bears, and other woodland animals.
We hope you will take the time for some rest and relaxation this spring and summer and will visit one of these sites or other destinations that will lift your spirits. You've earned it!
Go ahead and take a little time off and rest easy knowing your IT Support partner will keep your operations secure and productive while you are away.