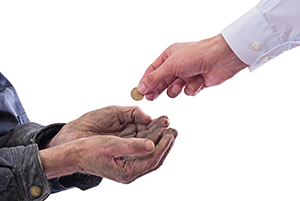 Is it just me, or is the holiday shopping season getting a bit overloaded this year?
First, there's Black Friday, which apparently now starts at 8 PM on Thursday. Then there's Small Business Saturday, and then Cyber Monday. And of course, everything is extended for a weekend or week-long sale. Basically, starting during Thanksgiving, you have all these retail stores telling you that you need to go and buy things, and they are giving you the incentives to do just that.
Let me be clear here, I'm not knocking Black Friday, Small Business Saturday, or Cyber Monday. In fact I, like most people this time of the year, am really torn between wanting to take advantage of all these great deals, support local businesses, and the strong desire to not get trampled under the holiday shopping crowds. It is a great time of the year for shopping, and for showing support for local businesses.
But you have to admit, it can feel like a little too much.
That's why I was very excited to discover that today is "Giving Tuesday". It's a time for all of us to take a step back from the sudden chaos of holiday shopping that has erupted over the past week, and concentrate our efforts on helping other people who need it. If you're interested to see what people are doing, just search for #GivingTuesday on Twitter.
Along with the overload of shopping frenzy, this also tends to be the time of year when people do just that- they take time to help other people in need. Whether they help out at a local food bank or soup kitchen, adopt a family for the holidays, or donate to local shelters, this time of the year so many people will stop and take time to help those less fortunate. And it's a wonderful thing to see (and to be a part of).
That's why I like the idea of "Giving Tuesday" so much. It helps to shock us out of the shopping frenzy earlier than we might normally have, and remember how important it is to help those around us.
Network Depot has four main charities that we support. Buddy Ball, EVCO, Cancer Can Rock, and Kev's Hope. You can learn more about each of them on our Community Involvement page. Throughout the year, we always try to give back, to help out the different communities that are in need, and to show our support in whatever way we can. This year, during the holidays, I am also going to be participating in the Adopt An Angel program.
I really encourage every one of you to take time today to decide how you want to help those around you. To get you started, here are some ideas:
Collect canned food for donations at a local food bank
Volunteer to help serve food at your local soup kitchen
Donate time and/or money to a local animal shelter
Adopt a Family for the holidays
Collect needed items to send to places recently hit by disasters, like Typhoon Haiyan
Donate old clothing to GoodWill
Donate old toys, books, clothes, etc. to a local shelter
The great thing too is that helping out those who are less fortunate takes much less time and effort than people think. It's something you can even do as a team! Maybe start a food drive in your building- ask your clients and members of your team to bring in canned goods for the next few weeks, and you will have a great donation ready just in time for the holidays!
So, in this season of shopping overload, let's make sure we concentrate just as much effort on giving back too. You will be amazed at the difference you can make.
In fact…how great would it be if every Tuesday was "Giving Tuesday"?