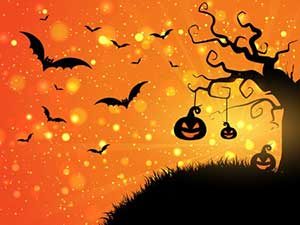 As you try on your cool superhero or zombie costume for this week's Halloween parties or prepare to accompany your kids trick or treating, it seems an appropriate time to give you some disturbing information that will scare you a lot more than anything you will encounter during the holiday. In short, cybercrime is getting more prevalent and sophisticated as well as more expensive to protect against and overcome. Please check out the list of chilling statistics below if you are in the mood for a good scare!
In previous blogs, we have detailed many concrete steps your company can take to protect yourself against cyber-attacks. Our most important piece of advice: Consult with an IT Support partner, like Network Depot, to make sure your small business is well-protected against cyberattack!
In case you need any reminding of how real and dangerous the threat is, please take a moment to read through these eye-opening statistics compiled below:
They're happening more frequently! According to Security Magazine and Techrepublic.com, there is a cyber-attack every 39 seconds, affecting one in three Americans every year. 95% of these compromised records came from three main industries: Government, retail, and technology.
The scale just keeps getting bigger! The largest data breaches in history occurred over the last three years and affected all three billion personal accounts at Yahoo. In addition, a data breach this summer at the credit reporting agency Equifax compromised the sensitive personal information of 143 million American consumers.
According to Osterman Research, 47% of businesses experienced a ransomware attack in 2016. Additionally, some insidious cyber-criminals are asking victims to infect 2 other users (instead of demanding the usual $500 ransom fee) before they will remove the lock on their data. Global ransomware costs are predicted to rise from $325 million in 2015 to more than $5 billion in 2017. Cybersecurity Ventures calculates that there will be ransomware attack somewhere in the world every 14 seconds by 2019.
Small business shouldn't feel safer than large ones! According to smallbiztrends.com, 43% of cyberattacks target small businesses.
According to Lloyds and Juniper Research, the global cost of dealing with the damage and disruption of cyberattacks will rise from $400 billion in 2015 to $2.1 trillion by 2019 all the way to $6 trillion in 2021. The average cost of a data breach will exceed $150 million by 2020 as business IT infrastructure becomes more interconnected.
According to Cisco, despite being targeted regularly, only 29% of small to medium-sized businesses use standard cybersecurity tools such as configuration and patches to protect against cyberattacks. For some counterintuitive reason, this figure has gone down from 39% in 2014.
Here's a stat that will make you feel particularly queasy: According to SC Magazine, more than 75% of the healthcare industry was infected with Malware in 2016.
Even a big locked vault doesn't always keep you safe! 65% of the top 100 US banks reportedly failed web security testing according to expandedramblings.com.
If the hacker doesn't get you, your employees might! Intel Security reported that 43% of all data breaches were caused internally. Approximately half of those incidents were accidental, as a result of subpar security practices, while the other half were intentionally caused by malicious insiders and unhappy employees.
According to Barkly, 52% of organizations that were victims of successful cyberattacks in 2016 had no plans to make changes to their cybersecurity efforts in 2017. This stunning statistic should scare you and make you scratch your head in disbelief, as you hope that none of your sensitive records are with any of the companies that make up this surprisingly large group!
There's nowhere on the planet that's safe! According to swimlane.com, only 38% of global organizations believe they are prepared to fight off a sophisticated cyberattack.
Symantec, the maker of Norton Antivirus, who knows a thing or two about the cybersecurity threat, estimates that 75% of all websites have exploitable vulnerabilities.
The Internet of Things (IOT), which is all about a wide range of consumer devices being interconnected, will continue to grow rapidly and the cybersecurity risks will also increase as a result. From about 8.4 billion connected things in 2017, the Motley Fool estimates that there will be 50-200 billion connected devices by 2020.
The silver lining! The cybersecurity business is booming and in desperate need for recruits. Zacks.com estimates that businesses worldwide will spend $102 billion on cybersecurity efforts in 2020, up from $74 billion in 2017. According to csoonline.com, there is a growing worldwide cybersecurity worker shortage that is expected to reach 3.5 million unfilled jobs in 2021. All of these trends present a great opportunity for talented companies and individuals who want to get involved in a worthwhile industry devoted to fighting cybercrime.
To sum up how influential business people feel about the growing cybersecurity threat, IBM's CEO Ginni Rometty stated succinctly, "Cybercrime is the greatest threat to every company in the world."
Now that you've taken a look at these sobering stats, we would recommend giving your mind a break from all this bad news. Feel free to go ahead and enjoy some of that tasty Halloween candy!
For assistance with your cybersecurity efforts and any other IT-related issues, please contact us here at Network Depot.