As you finish putting the last touches on your impressive Halloween costume, we would like you to take a moment to get really spooked by looking at some frightening cybersecurity statistics and trends. Despite increased attention by small businesses and organizations to protect themselves in 2022, the cybersecurity threat continues to grow.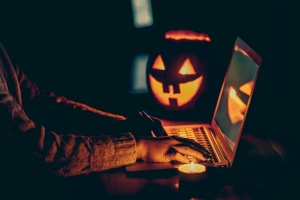 In summary, your small business has never faced a more potent cybersecurity threat from determined cybercriminals, and your organization must be prepared to face this daunting challenge. In case you need further convincing, we recommend you take a moment to look at this list of recent alarming statistics and trends compiled by cybersecurity experts.
The information in this article was researched and reported by: Cybersecurity Ventures, Gartner, IoT Analytics, Webroot, AV-Test, CyberEdge Group, Threatpost, Uncommon X, Spamhaus, Accenture, CyberTalk, and Positive Technologies.
Spooky Cybersecurity Statistics and Trends
Global cybercrime costs are expected to reach up to $10.5 trillion annually by 2025.
The average cost of a data breach to organizations last year was $4.24 million compared to $3.86 million the previous year.
86% of surveyed organizations were affected by at least one successful cyberattack in the last year.
The most targeted industry sectors by malicious actors are education and research followed by government and military networks.
The healthcare industry has experienced a 51% increase in security breaches since 2019.
70% of healthcare organizations reported that increased ransomware attacks have had a negative impact on the quality of healthcare including longer stays in the hospital and delays in procedures. As a result of this trend, more patients have had poor outcomes, and patient mortality has risen.
43% of cyberattacks target small businesses, but experts estimate that only 14% are adequately prepared to defend themselves.
Two out of five small businesses have been victims of a ransomware attack. There was a ransomware attack every 11 seconds in 2022—an increase of 20% from 2019.
Only 4% of organizations that paid the ransom demanded by cybercriminals were able to retrieve all their stolen data.
Despite having suffered ransomware attacks, 70% of affected organizations reported not prioritizing cybersecurity, only 35% conducted a risk assessment in the following year, and the majority reported lacking a chief information security officer (CISO) or other executive responsible for managing this threat.
57% of IoT devices may be vulnerable to cyberattacks. The number of IoT connected devices grew 18% this year with more than 14.4 billion connections.
There was a 100% increase in the number of attacks on IoT devices in 2021. Experts predict this trend will continue as more IoT devices representing more network endpoints are utilized by company employees.
There were 153 million new malware samples from March 2021 through February 2022—a 5% increase over last year.
94% of malware observed was polymorphic, which means that it can change its code to avoid detection.
Experts predict that 45% of organizations will experience attacks on their software supply chain—a 300% increase from today.
82% of organizations designate third party vendors in their software supply chains with highly privileged roles. 76% of these roles are authorized to allow account takeover.
More than 90% of designated security teams at organizations are not aware of the permission levels granted to third party vendors in their software supply chains.
84% of cyberattacks came through emails in 2021 compared to 64% in 2019. Experts expect this trend to continue as more employees access their email and work networks through their mobile devices.
Botnets are responsible for 31% of cyberattacks on companies. Malicious actors are creating thousands of new botnet servers as they are easy and cheap to produce and generate steady income.
A recent study showed that cybercriminals can penetrate 93% of company networks with the average security breach only taking two days to complete.
Speak with a Cybersecurity Expert
After taking a moment to process these disturbing statistics, we recommend you speak with a cybersecurity expert like Network Depot to help you protect your organization. A trusted IT Support partner will assess your organization's current cybersecurity state and recommend the tools and processes needed to keep you secure. They will also provide security monitoring of your network and bolster your defenses with updated tools on an ongoing basis.
In addition to taking positive steps to improve your organization's cybersecurity, we recommend you actively participate in fun Halloween activities and seek comfort in your favorite sweets. We hope you enjoy your break from the stressful cybersecurity environment!
Happy Halloween 2022!