When we speak with potential clients, one aspect of our business they always ask about is how our help desk tiers work. They are usually very surprised to hear that we don't use the traditional system of Help Desk Tiers.
Traditionally in this industry, when a company has a help desk in place to handle customer support calls, the help desk is structured in a format known as "tiers".
What does the Tier structure look like?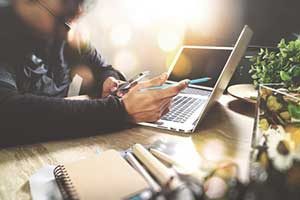 Each tier denotes a different level- as you go up in tier, that indicates that the technician you will be working with is more experienced, and also corresponds to the severity of your issue. Generally speaking though, even if your issue is an emergency, you will not be able to speak to a Tier 3 technician until you have spoken to both a Tier 1 and Tier 2 technician, and they have both agreed they are unable to solve the problem and they need to escalate it.
What Do The Different Tiers Mean?
Tier 1 Technicians: These are usually lower paid, junior level technicians. Most often, they are recent college graduates, or outsourced third parties located overseas. These technicians can handle simple desktop support questions and issues. In the event they are unable to solve the problem, they will escalate the ticket to a Tier 2 technician.
Tier 2 Technicians: These are more seasoned technicians. Most of them have at least two years of experience providing IT support, and can handle complex desktop problems, network and routing issues, as well as provide general server support.
Tier 3 Technicians: These are engineer level technicians, and are usually the highest level in a tier structure. Most of them have at least 5 years of experience providing IT support, and they also have experience with project planning. They can handle just about every desktop, network, and server problem that's thrown at them. These technicians also have experience in network design as well as project planning and implementation.
Why Do Companies Use Help Desk Tiers?
You will find this tier structure all over the place, especially when dealing with IT support companies, as it is generally an industry accepted best practice. In theory, it is designed to improve the efficiency of the support team, and help cut down on costs.
When using the system, a company will have mostly Tier 1 technicians handling customer problems. They will be the first point of contact for the customer. This way, if the problem is simple, it is fixed quickly and easily- without taking up the time of a Tier 2 or 3 technician, who are working on issues that take longer to solve.
While this can be good for the client, because they don't have to wait hours to talk to a specific technician to fix a simple problem, the main benefits tend to be more for the company. Because the bulk of the work is handled by the Tier 1 technicians, this means that the company only needs to hire a few of the higher-tiered technicians, who get paid more than the Tier 1 techs. In this way, they are able to cut down on costs. They are also able to take many more calls at once, at least initially, because they know that no matter what, the client will have to speak to a Tier 1 technician first. So, that means that while the company is saving costs, they are also able to potentially bring in more money.
Do you think that the help desk structure is a good one? What are positive and negative experiences you have had with help desk tiers? Let us know in the comments!