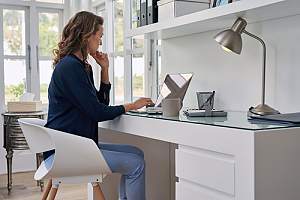 With so many employees of small businesses and organizations emotionally impacted and working remotely during this difficult time, company leadership is facing a significant challenge to keep them engaged and effective.
In this blog post, we will give some recommendations that will help your employees stay calm and be as productive as possible in the face of the pandemic.
Communication is Key
Maintain Regular Work-Related Communication and Emphasize Continued Collaboration
When your employees are feeling anxious as they are during this crisis, one of the most important things your organization must do is to keep the lines of communication open. The support of managers and co-workers is crucial during this time to overcome feelings of isolation and uncertainty. It is important to reinforce the feeling in your employees that they are still part of an effective team working together to achieve shared goals.
Your company should provide many opportunities for your staff to interact and work with their colleagues using different collaborative and social media technology. For example, your company should make sure there is at least a weekly video or teleconference call for all employees in their respective departments so that everyone can thoroughly check in and update the status of their tasks and goals. In addition, leadership and team members should always be easily accessible for feedback discussions, work reviews, work status updates, collaborative work sessions, and other interactions via various types of communication.
Another important idea your company should stress is that even though the workplace environment is different, that the same productive work effort is expected, and any exceptional work will continue to be recognized. One way to emphasize this message is by highlighting an employee of the week and recognizing them for their hard work and results during a weekly team meeting.
Update Employees on Virus-Related Topics and Encourage Healthy and Charitable Behavior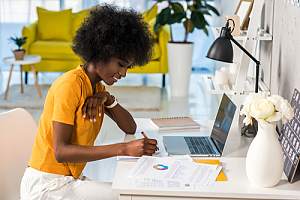 Throughout this crisis, your organization should be a reliable resource regarding the covid-19 virus for your staff by providing links to important information and behavioral guidelines. However, your small business should only share information from legitimate sources such as the Centers for Disease Control and Prevention, the National Institutes of Health and from federal and local authorities. It is also important to remind your employees to be cautious of conspiracy theories and scams related to the virus.
Your small business should also stress to your employees the importance of monitoring their health. It is important to convey the message that if your employees feel ill or have symptoms they should stop working and seek the proper medical attention per official guidelines. Your organization should also advise your staff members to encourage their fellow employees who appear or act ill to seek medical advice.
Another useful and beneficial service your company can provide is offering links and contact information for charitable and volunteer organizations where your employees can donate their time and money to help those affected by the pandemic. Your employees will feel less helpless and more productive when they can donate their time and money to help make a difference in the ongoing fight against the virus.
Provide Opportunities for Employees to Socially Interact
Along with regular work-related communication and coronavirus updates, your small business should work hard to give your employees opportunities to blow off steam and bond as a work family. In short, a happier, less stressed worker is a more productive worker. When your employees have less anxiety, they will be more engaged and more effective at their job.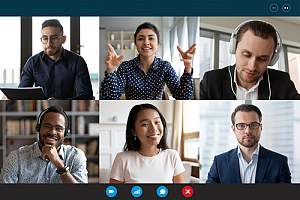 Your organization should schedule time daily when employees can have coffee chats or lunch discussions about anything other than the pandemic or work. In addition, your company management can get creative and schedule weekly activities that involve enjoyable activities such as sharing funny photos of kids and pets or fostering discussions about dream vacation destinations or sports teams. Another idea to lighten the mood is to encourage relaxed contests on a weekly work call such as for the most stylish hat or the most colorful or unfashionable shirt. In addition, your company could occasionally schedule lunch meetings where employees could enjoy boasting about their prepared meals and offering recipes and tips to their coworkers.
Supply Employees with Optimal Remote Work Equipment and Guidance
Your small business should ensure that your workers have the optimal equipment to successfully complete their jobs in their remote work settings. It makes sense to supply employees with highly secure, company-furnished devices with all the applications and tools they need to perform well. In addition, your company could purchase or offer recommendations on tools and products that make teleworking more comfortable and effective such as headsets, earbuds, ergonomic furniture and workstations, and light-blocking screen protectors. Your company leadership should set good examples of how to effectively outfit and operate remote workspaces. In addition, they should also seek to lighten any tension by demonstrating to employees (with personal examples) that they shouldn't be afraid of being interrupted occasionally by children or pets or other at home distractions.
In addition to providing your employees with the right equipment, your company should continuously stress the importance of good internet and email behavior as well as the critical need to keep all company-supplied equipment secure. This is especially important during this crisis as cybercriminals have increased their efforts to exploit people's fears about the coronavirus. Your company should mandate online remote work training to all employees that covers these important security issues and offers recommendations on how to succeed in the telework environment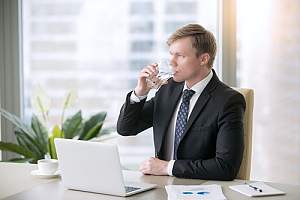 Your company should also make it a point to recommend that your employees practice healthy telework behavior. Some suggested actions include taking frequent breaks, staying hydrated, meditating, and eating a healthy diet. Your small business should also stress the need for your workers to occasionally rejuvenate themselves during the workday by going outside for fresh air and sunlight.
Offer More Opportunities for Online Training and Employee Development
Without the daily distractions of a busy office, your employees who have quiet time alone at home will be able to better focus on developing their current abilities or start learning new ones. Your organization should take advantage of the increased amount of individual work time by offering your employees a wide variety of exceptional online training material to develop valuable work skills. The improved work skills gained through enhanced online training will benefit your employees personally and will help your organization as a whole.
Along with providing training opportunities, your leadership should also take advantage of the opportunity for more one-on-one time with individual employees to offer constructive work reviews and have open, personal conversations. Managers should also schedule individual meetings to discuss specific employee concerns and get feedback on how to optimize company operations in general. Anonymous online surveys are another method your company could utilize more frequently to help improve the current telework situation and enhance company operations overall.
Work with Your IT Support Partner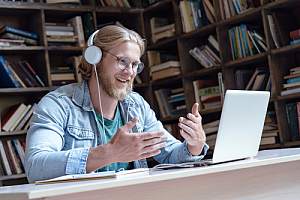 Aside from your employees and management, nobody knows your organization as well as a reliable IT Support partner. A trusted IT Support partner like Network Depot has insight into your small company's unique needs and can offer advice on how to best follow the recommendations in this blog post. Your IT partner can offer suggestions on the best telework equipment, software tools, and online training materials as well as assist your organization in implementing any needed changes and improvements.
With the help of the recommendations above and the assistance of a trusted IT Support partner, your company will be able to keep your employees engaged and effective at an optimal level during this crisis.