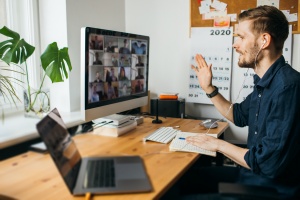 As remote work and completely virtual companies have become more widespread, it is an ideal time for small business managers to review interesting trends and statistics on these topics. Looking at some of this information will help small businesses assess how offering remote work options or becoming virtual companies could improve their organizations.
The statistics in this article were provided by the following sources: Growmotely, Flexjobs, Mercer, Owl Labs, International Workplace Group, Deloitte, CIPD, and Airtasker.
Percentage of employees working remotely
Pre-pandemic, 6% of U.S. workers or about 7 million people were fully remote.
42% of the US workforce were working remotely 9 months into the pandemic.
Almost 27% of US employees are now fully remote workers in comparison to 12% worldwide.
16% of companies have now become virtual organizations with a completely remote staff.
66% of U.S. employees work remotely at least part-time.
Business experts predict there will be nearly 40 million employees working fully remotely by 2025. This is a greater than 400% increase from pre-pandemic levels.
Company leadership attitudes on remote work results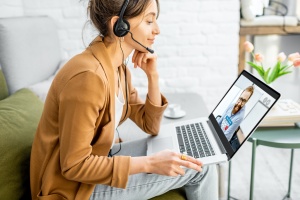 82% of company leaders plan to allow employees to work from home at least part of the time, while 47% will allow employees to be fully remote.
70% of company executives reported that remote work has had a positive impact on their organizations.
Companies reported saving up to $11,000 annually for each employee that worked half-time from home.
71% of virtual companies reported the same or more efficient operations after making the change to a fully remote workplace.
Employee productivity and satisfaction
71% of remote workers are happy in their job compared to 55% of on-site workers.
86% of workers feel that working remotely reduces their stress levels.
84% of employees are grateful for the lack of a commute.
75% of remote workers report that their work-life balance has improved.
95% of remote workers think their productivity has either stayed the same or improved compared to in the office. The main reasons they give for this enhanced productivity are fewer interruptions, quieter environment, feeling more comfortable, and less stress.
Remote workers report working more than 40 hours a week from home 43% more often than on-site employees. Virtual teams work 1.4 days more per month than their office counterparts, which equals three additional weeks of work per year.
Researchers found that remote workers spend 10 minutes less a day in unproductive minutes compared to on-site workers.
Employee hiring and retention statistics related to remote work
Companies allowing remote work have 25% lower employee turnover than companies that do not offer remote work options.
80% of workers say they are more likely to choose an employer who offers remote work over one that does not.
73% of employees want a flexible working schedule compared to 38% that work on-site.
58% of workers would "absolutely" look for a new job if they weren't allowed to work remotely.
61% of working professionals say they would prefer a fully remote position.
74% of employees say that the benefits from remote work makes them less likely to leave their company.
Remote job listings on LinkedIn increased by 350% over last year.
61% of US workers would accept a pay cut to be able to work from home, and 64% would expect higher salaries from jobs not offering remote work.
Remote work challenges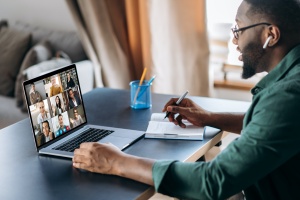 49% of people working remotely report missing their colleagues with 11% admitting they feel lonely. 68% of workers say they miss work-related social events. To overcome these challenges, experts recommend companies offer communal activities and encourage interaction among their remote workers through a process known as creating virtual water coolers.
20% of employees find it difficult to "unplug" from work when they are at home.
73% of companies with remote workers have employees in multiple time zones. It can be difficult to organize meetings, especially urgent ones, with employees working different hours.
90% of remote employees had to spend money to build a home office. 12% reported spending more than $1,000.
Only 5% of company executives think that fully remote companies can have a strong company culture.
Consult with an IT Support Partner about the benefits of becoming partially or fully remote
The benefits of offering remote work options or becoming a virtual company are significant, and most companies should consider taking advantage of these new workplace trends. Your company would get value out of a comprehensive discussion with an IT Support partner, like Network Depot, to assess the best business model for your organization.
With the understanding of the benefits and challenges of remote work and the help of a trusted IT Support partner, your organization will be well prepared to decide on and execute the ideal remote work situation.
For help with learning more about how to implement the best remote working options for your organization, please contact Network Depot today!