Small businesses are continuing to reap the benefits of remote work in 2023 with recent statistics demonstrating that the significant movement toward more work from home (WFH) positions and virtual offices continues to grow.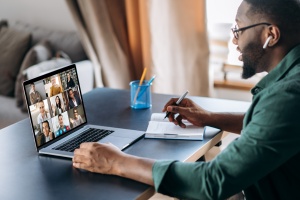 In this article, we will discuss the latest interesting statistics regarding remote work that will be of interest to your small business. These statistics were compiled through research by Mercer, PGI, CIPD, Zapier, Growmotely, Upwork, Gartner, Flexjobs, Buffer, Cisco, and Owl Labs, Fortune Business Insights, and Maximize Market Research.
Growth of Remote Work
The expected growth rate for fully remote workers will double over the next five years to 65%.
Millennials and Generation Z employees are becoming the dominant parts of the workforce, and many of them are unwilling to accept jobs without robust WFH options. 53% of millennials state that they would immediately look for another job if forced to return to the office.
The worldwide remote desktop market is projected to grow steadily from $2.3 billion in 2022 to $7.3 billion by 2029.
The virtual office market will expand from $41 billion in 2021 to $138 billion in 2029.
Employee Perspectives on Remote Work
82% of workers reported less stress working remotely.
80% of employees said they had better morale working from home than at the workplace.
74% of IT workers would be willing to quit their job for a similar position that allowed them to work remotely.
61% of working professionals would prefer a fully remote position.
58% of employees would search for a new job if they couldn't continue to work remotely.
Only 3% of employees would prefer to work full time onsite.
81% of employees say they would be more loyal to their employers if they offered flexible work schedules.
73% of remote workers say that WFH provides a better work-life balance with its flexibility.
Employees are also especially appreciative of the lack of commuting, less distractions, and the money saved because of remote work.
60% of workers say WFH improved their professional development.
An impressive 71% of remote workers say they are happy at their job with only 55% of on-site workers responding the same way.
97% of remote workers would recommend WFH for others.
Employer Acceptance of WFH
82% of company executives plan to continue allowing employees to work remotely at least some of the time with 47% having no problem allowing their employees to work remotely all the time.
94% of employers believe that remote work has not damaged their organization's productivity.
56% of managers feel that their organizations' shift to remote work has gone better than expected with only 10% feeling that this transition has gone worse than expected.
76% of entrepreneurial companies see remote work as the "new normal."
31% of employers exclusively hire remote workers.
Benefits of Remote Work
71% of virtual companies reported the same or more efficient operations after making the change to a fully remote workplace.
62% of workers feel more productive when working from home.
61% of employees would accept some reduction in pay for WFH options. 34% of employees would accept a pay cut of up to 5% if they could work remotely.
21% of workers are willing to give up vacation time for flexible work options.
85% of workers prefer to apply to jobs with remote work options.
Employers can save an average of $22,000 every year per remote worker while employees can save an average of $4,000 per year through WFH. 38% of employees estimate they are saving more than $5,000 in annual costs.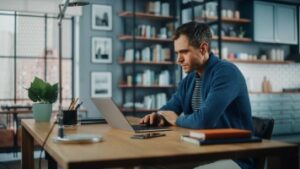 In summary, good remote work options lead to happy workers who will stay at your business longer, be more productive, and be better representatives for your organization. Happier and better performing employees will also improve your company's customer satisfaction and client retention.
These factors will result in increased revenue for your organization.
Consult with Your IT Support Partner on Remote Work Options
To effectively assess your organization's remote work options, we recommend speaking with a trusted IT Support partner like Network Depot.
Your reliable IT partner understands the importance of a customized business model and virtual tools for running a successful organization. They can help recommend the tools, employee training, and processes that will enable your company to effectively establish and operate your preferred business model. Your IT Support partner will also help your company overcome some of the key challenges of remote work including lonely and disconnected workers, multiple time zones, and virtual communication issues.
With an optimized remote work situation, your organization will have happier and more productive employees, reduced operating costs, and more satisfied customers. These significant benefits will help your organization achieve its unique goals.