These days, you really need to be on the lookout for cyber-scams, and unfortunately, I don't just mean over your computer. While many viruses, hacks, and phishing scams will take the form of an email or a suspicious link, there are other ways cyber-criminals are gaining access to your system- one of these being over the phone.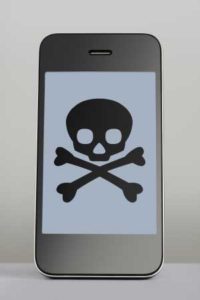 Recently, at one of our client sites, an employee received a phone call claiming to inform them that their computer was not responding to Microsoft updates. They then proceeded to try and get a number of pieces of information from the employee in order to "fix" the issue. Fortunately, this employee knew that Network Depot handled all of their updates, and immediately hung up the phone.
In fact, this is the second time in the past month one of our clients has gotten this type of phone call. These types of attempted phone cyber scams are becoming more popular, and now is the time to educate yourself and your staff.
As an IT support company, one of the many functions we perform for our clients is to make sure that their updates are running correctly. If there is a problem, we are notified about it, and then we take the necessary steps to fix it. Sometimes this means working with the Microsoft support team, sometimes not. But there will never be a case where we would have a client speak directly with a member of the Microsoft support team, at least not without being on the call as well. And the client would certainly never receive that phone call out of the blue.
When these scam phone calls happen, it is easy to get flustered and overwhelmed, and to have a tendency to trust the person on the other end of the phone. But, you have to train yourself, and your staff, to be wary. Generally, these scammers are looking for any type of personal information that will help them gain access to your computer, and your company network.
Here are some red flags to listen for:
They tell you they are from Microsoft support, Windows support, Windows help desk, etc.- If you are working with an IT support company, like Network Depot, this simply will not happen. We are your liaison to these big vendors, so you should never have to talk to them directly, or at least, without us present on the call. And even if you don't work with an IT support company, it is incredibly unlikely that these big corporations will be calling you out of the blue because they noticed a problem on your specific computer. To be frank, they don't really have the time or energy to be monitoring you that closely. Generally, these big vendors will wait for you to call them.

They ask for personal information- If they start asking for all kinds of personal information such as passwords and serial numbers for parts, license keys, etc. you want to hang up the phone. These are all ways that people can gain access to your network, and if you did not call them directly and you are not familiar with their company, it is extremely likely they are a scammer.
You don't recognize them- If they are claiming to be from "your help desk" but you don't recognize the name, a good rule is to hang up the phone, and call your help desk company back to ask them about this supposed "new employee". Don't just take their word for it, double-check with someone you trust.
In general, remember that if you are working with an IT support company, it is their job to take care of all of that for you. And, especially in Network Depot's case, we monitor things like updates very closely and consistently to make sure they are always running the way the need to be. If we notice a problem we fix it for you, and notify you about it. A good rule of thumb is that if you are ever in doubt about a phone call you receive dealing with your IT network, just hang up the phone, and then call us back to verify (703-264-7776). Worse comes to worse, you were really talking with a member of our team and you can claim the line got disconnected.
The whole point of hiring us is that you don't have to worry, so if you ever receive a phone call from someone you don't know who is trying to make you worry, you can feel confident in hanging up on them.
For more great information on how to handle phone cyber scams, check out this page from
Microsoft: http://www.microsoft.com/security/online-privacy/avoid-phone-scams.aspx