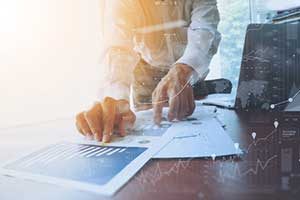 Performing a gap analysis can help you better understand your business's needs and identify weaknesses. Small and mid-sized businesses in particular can greatly benefit from a gap analysis when determining the best way to allocate resources. Once you've uncovered the "gaps" through a gap analysis report, it becomes easier to prioritize and address problems that may be affecting your target objectives. In the technology sector, a gap analysis can reveal a wide range of issues such as an incompatible system or missing technological capability and is an essential feature of a competitive IT strategy for any business. This article will explore how your company can conduct a gap analysis and learn how to bridge any technology gaps to help your business grow and succeed.
Defining the Gap
In a gap analysis, the gap is described simply as "the space between where we are, and where we want to be." To explain the first part of the statement, you must consider the present situation of your business. Important current factors such as attributes, performance, and employee competencies play into the overall productiveness of a business. The second part of the statement focuses on the desired future of these current factors. The distance or space between these two points is known as the gap and a gap analysis is used as a tool to uncover and then fill the gap by making necessary changes.
Conducting a Gap Analysis
There is no formal method for conducting a gap analysis. Businesses generally use this tool as a foundation for measuring the investment of money, time, and human resources. Start the process by creating a technology road map that matches your short-term and long-term goals. Your road map should contain specific technological solutions that apply to new products, services, or emerging technologies in your field. Developing a road map offers your business several major advantages. For example, it can help you identify consumer needs and the technologies required to satisfy these needs. It can also help you forecast technology developments and provide a framework to help you plan and execute new technological growth.
Identify Your Future State
Once you've constructed a road map for your business and IT, you can move on to performing your gap analysis. The first step to conducting a technology gap analysis is to establish specific objectives.
First, look carefully at your business's mission statement, improvement objectives, and strategic goals to determine where your business is now and where you want it to be. You'll first want to identify your company or department's "known" gaps. These are the gaps in which there is a general agreement among key personnel about their significance. It's also wise to solicit input from other departments, such as management, marketing, business development, and the sales team. When you finish this process, these known gaps should be specific and well-defined. There also may be gaps that cannot be fully described, which are referred to as "potential" gaps.
While you want to make known gaps a priority, don't ignore potential gaps. Potential gaps do not meet the full criteria to make them a known gap as they may contain missing information that prevents you from determining their full impact. For example, you may have information that a competitor is set to release a new piece of custom software that is likely to be faster than your current software. However, you don't have the details yet that tell you exactly how much faster it will be or if the software will exceed yours in terms of overall performance and user-friendliness. Therefore, it's important to keep a backlog of these potential gaps so that you can collect more information at a later time to potentially reclassify a potential gap as a known gap.
When formulating your concise goals and objectives, consider each of the following aspects of your business:
The organization of your business
The direction of your business
The products or services you offer
The processes that you undergo
The IT aspects of your business
The bottom line of your business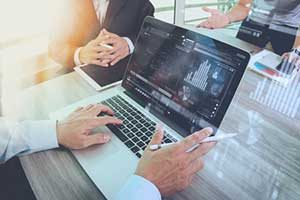 When establishing future objectives, it's important to consider key trends that will affect the market. Keeping up with the latest trends is critical, especially in the technology industry. Most recently, technology trends have focused on topics such as social media, recycling features, and energy consumption. Remember that consumers are also always on the lookout for the fastest, smallest, and cheapest forms of technology. By continuing to monitor trends, you can determine which ones directly affect consumers and why you may want to integrate certain important trends into your road map. In addition, you'll also want to gain the skills necessary to identify triggers that could help you pinpoint how and when a competitor may gain the upper hand in the industry.
Analyze Your Current Situation
Once you've identified your technological goals and objectives, the next step is to analyze current business processes.To accomplish this task, you will need to collect relevant data on IT performance and how resources are currently being allocated for different technological processes. Depending on what is being analyzed, you may collect data from a range of sources. For example, you should brainstorm with IT professionals, look at relevant documentation, conduct interviews, and observe project activities. Every organization has an IT infrastructure vision, so make sure to study this vision closely to identify gaps from an IT standpoint. After careful study and consideration, map out the details of the identified gaps and explain why they exist.
Determine How You'll Bridge the Gap
Finally, it's time to compare your business's target goals with its current state. To bridge each gap, you will need to draw up a comprehensive plan that specifically outlines the steps that need to be taken to fill this gap. Once the gap between the current and future states has been filled by workable steps, you have reached your target objectives.
The final column within a gap analysis report should list all of the possible solutions that may be implemented by a business to fill gaps. These solutions must be specific and correspond directly with the factors listed in the gap description above. For example, introducing new technology to upgrade your current technology state and improve performance. When you're defining measures to take to fill a gap, consider how to implement solutions in a way that will cause the least amount of disruption to normal business operations.
In summary, the contents of a gap analysis report should include the following:
Information on how the business compares to its stated goal
Areas where a business meets or exceeds their stated goals
Areas where a business falls short of their stated goals
Specific action items that can help a business fill identified gaps
Creating a Gap Analysis Report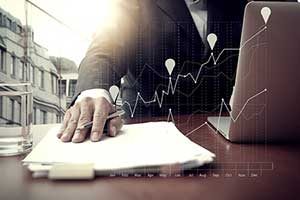 A gap analysis does not provide an actionable plan. Instead, it builds a foundation of understanding to create such a report. To compile a technology gap analysis report for your business, you will need to write an executive summary that provides a brief comparison of the observed versus the desired results for each goal. You may also address reasons that may have contributed to these gaps. Each of the goals or objectives should then be fully addressed in its own section, followed by a conclusion that summarizes the report. Most importantly, the gap analysis report should include calls for action to address the known gaps detailed in the report.
Using the output created by your gap analysis, create a comprehensive report that can be shared among your business's leaders. The gap analysis report should contain specific details including the following significant components:
Title Page: The title page of a gap analysis should provide details about the targeted objectives.
Copyright: This page should contain ownership and copyright information. It may also include a distribution list.
Table of Contents: This section should contain a user-friendly list of all content within the gap analysis and its location in the report for easy access.
Executive Summary: This section should provide an overview of the gap analysis content written exclusively for senior management.
Introduction: This section should include important introductory information such as the scope of the analysis and your business's approach. It should also include the unique scale used by your business, as well as any references used.
Findings: In this section of the report, provide details about the overall findings of the gap analysis. You may also note trends found in the findings. Also, include findings that apply to each process area. Demonstrate how your business compares to the scale using a graph.
Appendices: This reference section should contain an alphabetical list noting the location in the report of all important findings and recommendations. Any supplementary information can also be placed in this section.
An Alternative Method
There are several alternative methods of gap analysis that can help a business get a closer look at their skills and shortcomings. A SWOT analysis is an alternative gap analysis method that can help you compare where you are to where you want to be in terms of business growth and performance. SWOT, which stands for "strengths", "weaknesses", "opportunities", and "threats", clearly defines all of a business's attributes, both positive and negative. When creating a SWOT analysis, begin by listing all of your department's or project's strengths. Ask yourself important questions such as what makes your department or project great or better than your competitors?
Next, create a list of your department's or project's weaknesses. Reflect on what you could improve on or make better. You'll then want to make a list of realistic opportunities based on your strengths and weaknesses. How can you improve your business in a way that's achievable in the short-term and long-term? As complications can arise, also make a list of potential threats that could derail your plans. Think carefully about things that your company can do to prevent such threats. Lastly, make it a goal to maximize your strengths and seek opportunities that could benefit your business. In addition, brainstorm with selected influential individuals to find ways to minimize weaknesses and avoid threats.
Benefits of a Gap Analysis
Businesses can obtain a variety of benefits from conducting a gap analysis. One of the biggest advantages is the ability to measure ongoing progress. A gap analysis establishes a baseline that a business can use to show how they have improved over time. It can also help you determine the best starting point based on needs, budget, timescales, and other influential factors.
As a growing business, you may also be wondering what your company's strong points are. An effective gap analysis will help you identify what your business does best so you can avoid allocating extra resources to these areas. One of the biggest advantages of a gap analysis is your ability to see your company's vision and where it compares to your current reality. While most businesses have a vision, many are not able to accurately execute it. A gap analysis can help you transform your vision into achievable goals and get closer to your ideal state.
Developing a gap analysis and IT strategy is essential. If you don't have the resources or expertise in-house to effectively carry out this process and utilize this tool, you may wish to hire an experienced IT Support company, like Network Depot, for assistance.
Whether you're preparing to launch a new product or want to determine if a recent change in IT infrastructure is meeting expectations, a technology gap analysis can give you a better understanding of where your business stands. This valuable tool can be used to prioritize your business needs by helping you spot your strengths and identify deficiencies that you need to overcome for success. Uncovering gaps and learning how to address them can be extremely useful for small to mid-sized businesses looking to expand. Remember that a gap analysis is not just a one-time business strategy. Don't forget to check back regularly to see how things have progressed and to verify that your company's gaps have been effectively addressed.