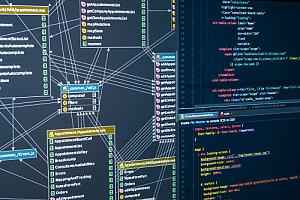 As the gloomy headlines continue to get worse concerning compromised sensitive information, your company should take the time to ensure you are doing everything you can to maintain data security.
In this article, we will discuss six ways your small business can effectively protect any sensitive personal information related to your clients and employees. We recommend you formulate a comprehensive data security plan that incorporates these suggestions in order to achieve an optimal level of data protection.
Inventory and limit the amount of sensitive personal information
The first step your organization should take for better data security is to complete a thorough inventory of the sensitive personal information you possess and catalog where it is stored electronically and physically. It will also be useful to track all the equipment and network access points for receiving and working with sensitive data. Knowing the amount and type of sensitive personal information you currently have, how you receive and transmit it, and where it is stored will help your company identify security weaknesses and give you the starting point for your data security plan.
Security experts recommend that your organization take a close look at the type of personally sensitive data you currently are handling and determine if it is necessary to serve your clients or carry out your internal and external operations. Whenever possible, your company should dispose of any sensitive information that is not essential by acceptable electronic means or with a shredder.
Restrict sensitive data access to employees who work with it
Security experts recommend that your organization develop a data classification system into three general categories: public, private, and restricted. Public data refers to data that is accessible to all employees and the general public and is not sensitive in nature. Private data would encompass any data that does not contain personally sensitive information but is intended for use by some or all company employees. This information would include internal memos, correspondence, marketing drafts, operational data, company finances, and planning information. Restricted data would include any personally sensitive client or employee information such as any personally identifiable information (PII), healthcare information, social security numbers, salaries, benefits, contact information, as well as credit card and banking information.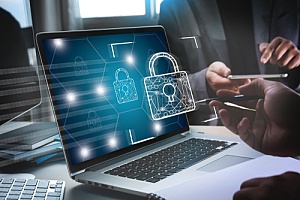 As a rule, your organization should restrict some of your private data from some employees and strictly limit the number of employees who have access to any restricted data. The standard should be that only employees who have a job-related need for sensitive information should have access to it. In addition, employees should only have access to sensitive information for as long as necessary and then should dispose of it properly. Another important recommendation is to allow selected employees to work with sensitive data on their work and mobile devices, but to limit their ability to store it on these devices.
Keep data in secure physical and electronic locations
Some important rules for keeping data secure in physical locations include:
Store paper documents and files as well as thumb drives and backups containing sensitive information in locked file cabinets and locked storage rooms with keyed or coded access.
Ensure that all sensitive information is kept locked away unless an employee is currently working with the information.
Require employees to never leave sensitive data on their desks when they are away from their workstations.
Ensure that employees log off all equipment and physically secure sensitive data at the end of each workday.
Require that any devices that collect sensitive information such as PIN pads, digital copiers, and external drives are always physically secured.
Some recommendations for improved network security include:
Store sensitive data on company devices with internet connections only when it is essential for conducting company business.
Use encryption tools as much as possible to protect your company's sensitive information.
Utilize firewalls and robust anti-malware tools.
Require strong password protocols and multi-factor authentication.
Install effective monitoring tools for prompt notification of any security incident.
Following these valuable recommendations will help your organization effectively protect sensitive data in physical and electronic locations.
Require employee data security training and screen contractors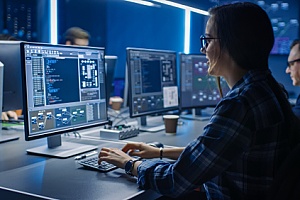 Your organization should ensure that your employees are thoroughly trained in good cyber hygiene as well as well versed in data security when they are traveling or outside the office. For example, employees should secure their laptops and other devices with cords or locks in the office or when working in public locations. In addition, employees should never leave their devices visible in a car or unattended as with checked or stored luggage. Your organization should also consider having additional security features installed in devices that work with sensitive information such as requiring smart cards or biometrics for access.
In addition to your employees, your organization must also take precautions to ensure your contractors and service providers are following recommended data security practices. Before outsourcing any business functions, your company should research and investigate the business to make sure they are following proper data security standards. Security experts recommend getting security expectations in writing from contractors as well as making a visit to their facilities to verify their compliance. One important requirement from your contractor should be that they notify you immediately of any security incidents they experience even if your company data was not compromised.
Create a plan to respond to security incidents
Even though the recommendations in this article will dramatically improve your company's ability to safely handle sensitive data, breaches sometimes still occur. In the unlikely event of a security breach, having a clear incident response plan in place will reduce the impact of any negative event on your company, employees, and clients. Some recommended key components of your plan include designating a senior leadership member to coordinate and implement the plan; isolating and disconnecting any compromised devices from your network; promptly investigating any threats to sensitive information; and notifying relevant parties of any security breach in order to meet ethical and regulatory requirements.
Consult with a data security expert
The most important advice we can give your organization for achieving optimal data security protection is to reach out to an IT security expert who can help you execute the recommendations in this article. A data security expert like Network Depot will work with your company to analyze your current treatment of sensitive data and will assist you in installing security and monitoring tools as well as implementing policies and procedures to keep your private information protected. By protecting your sensitive data in physical and electronic locations and working closely with your IT partner, your organization will be able to meet any data security challenges and achieve your unique objectives.