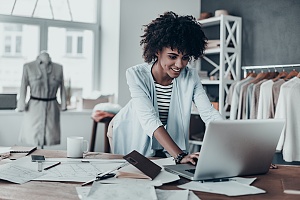 Operating a small business successfully in normal times is challenging enough, but the unending COVID-19 pandemic has made things even more difficult. In the face of this continuing crisis, small business owners will increasingly find it necessary to be more flexible and innovative as they strive to meet their organization's unique objectives. In this article, we will look at some of the main problems facing small businesses during the pandemic and will offer recommendations to help overcome them.
Contact Federal And Local Authorities For Help In Addressing Cash Flow Issues
Even small businesses with impressive discipline and savings are being hurt by the duration of the pandemic and the agonizing inability to know how long the crisis will last. As a result, many businesses are facing severe cash flow issues impacting their ability to operate their businesses and pay their employees. One of the most important ways to address this problem is to learn about and take advantage of the federal and local programs that are in place to assist small businesses during times of financial uncertainty.
Most importantly, your organization should contact the Small Business Administration (SBA) to learn about your eligibility for their various programs providing financial relief and support. The SBA offers a variety of programs including loans and grants that will help your company maintain its operations. In addition, the SBA can help guide you to state, local, and nonprofit organizations in your area, which may be able to offer your company additional mentoring and financial assistance.
Work With Supply Chain Vendors, Creditors, And Landlords To Lessen Financial Strain
Many small businesses have had to deal with operational issues caused by disruptions in the normal supply chain as well as added financial pressure to make rent and keep up with payments to vendors and creditors. Your organization should reach out to your credit card companies, banks, and other lenders to inquire about their customized payment and temporary forgiveness programs that could help ease your debt burden during this difficult time. Your company should contact all these entities and negotiate new terms that might include extended accounts payable terms and/or reduced payments. You will find that most of these businesses will be open to discussing and granting new payment terms as it is in their interest to assist their customers and partners in business to help ensure their own business survival.
Be Innovative In Serving Your Customers
The old catchphrase "Necessity is the Mother of Invention" will be continuously proven during this seemingly endless crisis. The businesses that are able to find new ways to serve their customers by overcoming virus-related restrictions will survive and possibly thrive during and after the pandemic. One of the main ways to safely and efficiently serve customers is to make as much of the selling and transactional process as virtual as possible. Restaurants and retailers of all kinds have embraced this strategy by offering online services along with curbside pickup and delivery. In addition, traditional one-on-one businesses such as fitness centers and healthcare providers have developed and improved upon their video chat and conference options.
Whatever your business services are, the main focus should be on developing most aspects of your business to serve your customers through virtual methods. Your efforts should also include purchasing and implementing the tools necessary for these virtual services as well as providing proper training for your employees to utilize them. In addition, your small business should offer ways for customers to do part of their traditional transactions by themselves, such as printing out forms and instructions or physically loading or bagging their own products.
Communicate Regularly With Your Customers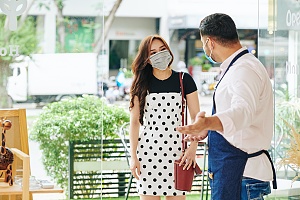 One of the most important things to practice during COVID-19 is excellent communication with your customers. First, your company should be utilizing emails and your website to let your customers know that you're still in business and that you will continue to serve them well. Second, you should make sure to emphasize that you understand their health anxieties resulting from COVID-19 and that you have adapted your interactive customer services accordingly. Finally, you should make a point of understanding their financial worries by offering occasional deals and specials for your products and services.
Recognize And Deal With The Anxiety Of Your Employees
These are unprecedented times, and there's no way to avoid the legitimate worry and anxiety of your employees. However, your small business can take steps to help lessen this anxiety. Your organization's first and most important message to your employees must be that their health and safety will always be the top priority. You can demonstrate your emphasis on this by assigning a leadership position that will be responsible for maintaining the safety of the workplace.
This leader's main task will be to formulate and execute clear company policies that will effectively protect employees from future risks and communicate these efforts regularly to all stakeholders. One important way to lessen anxiety among employees is to ensure them that robust and flexible remote work options will remain in place even after they return to the workplace. Your company should offer employees flexible work hours and days and allow virtual work to continue in the positions where it is possible.
In addition, it is important that your organization provides sufficient paid medical leave to your employees. This will ensure that staff members are not reluctant to stay at home when they are ill or when they have a sick family member at their residence. Making it clear that your company encourages your employees to stay home when feeling ill without any adverse consequences, will help lessen their anxiety about safety in the workplace. Your small business should also emphasize to their employees that mental health leave is available to deal with the pandemic and its aftermath. Your company leader on COVID-19 matters should also make your staff more aware of where they can find publicly available resources for useful mental health information and assistance.
Consult With A Trusted IT Support Partner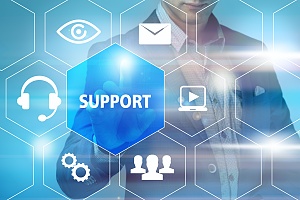 The best way to overcome the significant challenges of this ongoing pandemic is to seek out guidance from a trusted IT Support partner like Network Depot. A reliable IT partner will have the experience and insight into your company's unique needs to help you most effectively overcome the problems caused by COVID-19. Your IT partner will offer recommendations on the best hardware and software tools, IT security applications, and other materials, methods, and equipment, which will assist your small business in meeting the challenges brought about by this crisis. By following the recommendations in this article and with the valuable assistance of a trusted IT Support partner, your organization will be able to more effectively achieve its unique mission during the COVID-19 pandemic.