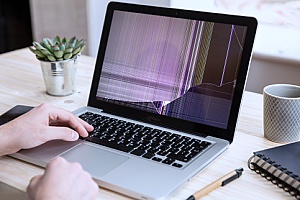 Small businesses and nonprofits must constantly balance the desire for new IT assets against the limitations of their lean operating budgets. As a result, it is important for leadership to develop and utilize a well-managed lifecycle replacement (LCR) plan for their IT equipment, which will achieve the highest performance level with the most efficient use of their limited resources.
The Value Of Lifecycle Replacement
Lifecycle Replacement is a managed process to maintain optimal functionality and user productivity by carefully planning the acquisition, maintenance, and replacement of IT hardware assets such as desktop computers, laptops, servers, printers, handheld devices, monitors, and other essential IT equipment.
By developing and executing an effective lifecycle replacement plan, your organization will be able to avoid the negative impact of outmoded or poorly performing equipment as well as reduce the cost in time and resources spent repairing items. With a comprehensive LCR plan, your company stands to substantially benefit in efficiency and cost savings. Without a plan, your company will likely lose daily productivity as well as suffer the financial consequences of periodic work stoppages because of broken or poorly performing devices.
In addition, by taking the time to research, acquire, and maintain the latest equipment in a deliberate, timely process, your organization will reap the benefits of happier employees who are using high-performing IT assets. Studies show that workers are typically 13-20% more productive when they are satisfied with their equipment and workplace.
Typical IT Equipment Replacement Timeframes
Although it is important to consult with an IT products expert at your IT Support partner to best understand when your IT assets should be replaced, it is helpful to look at some typical IT equipment replacement timeframes.
For desktop PCs, technology experts recommend replacing them every 5-8 years, while laptops generally need replacing every 3-5 years. Standalone LCD monitors usually do not need replacement for at least 10 years.
Office printers and copiers should be replaced every 10 years, although companies should only use leased equipment for 3 years. Network printers need replacement every 5 years.
Cell phones and other handheld devices should be replaced every 3-5 years depending on the complexity of apps being used and the need to update operating systems.
Although they are becoming rarer with the continued migration of applications, tools, and services to the cloud, servers need replacement every 3-5 years.
IT Equipment Reassignment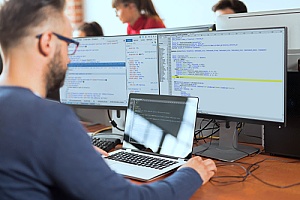 As part of LCR, your company will need to design and implement a plan to gradually manage and reassign equipment as it becomes outmoded and unwanted. Each organization has different technology needs for their varied workforce, but experts recommend following a general plan to repurpose and downgrade IT assets to get the most value out of them. One key figure your company leadership should note is the 3-5 year mark, which is the normal duration most accountants use to fully depreciate IT equipment for tax purposes. Your organization should look to replace equipment near this time point for the advanced users whose functions require the fastest and most powerful technology. In most organizations, these types of users include management personnel and individuals working in areas such as accounting, engineering, marketing, sales, and research.
After the 3-5 year mark, your organization should reassign some of this replaced equipment to optimize its value. These IT assets can still be useful for less demanding tasks in general and for employees that require less computing power for their job functions. This equipment can also be used with less concern in dirtier and dustier locations such as warehouses or manufacturing areas.
In addition, organizations can transfer some IT assets no longer needed at the workplace to employees at bargain rates or as a reward for their hard work. Many employees would be happy to repurpose these IT assets at their home for a wide variety of uses. Another option is to donate working and still reliable IT equipment to worthwhile charities.
As a last resort or final step in the process, companies should make sure to recycle or dispose of any non-working or unwanted IT products at proper facilities.
Consult With An IT Products Expert
A trusted IT Support partner, like Network Depot, knows your organization's unique business needs and has the valuable expertise to help you formulate and execute an effective IT lifecycle replacement plan. The IT partner's experts in the IT products department will determine which products will work most effectively and efficiently on your network and when they will need to be replaced.
Maintaining the most productive functioning of IT assets throughout their lifecycle is an important part of the LCR process. Through the client onboarding process, your IT Support partner should have all the necessary warranty information and recommended replacement dates on your IT assets. They also have the valuable experience of working with many different clients and can accurately determine the ideal lifecycle of IT assets in a variety of industries. With this important knowledge, they will be able to recommend the ideal times to update or replace your IT equipment. A reliable IT partner will also use advanced tools to closely monitor and track the performance of all your IT assets and know when they require service or replacement.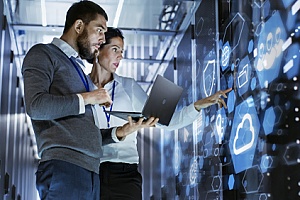 Importantly, as part of LCR, your IT Support partner will be well informed about the latest IT hardware and software products that can help improve your business operations, and they will be able to offer your company timely purchasing recommendations. In addition, your IT partner's product sales team will work closely with your account manager and service technicians to ensure the smooth integration of your products into your network and will make sure they function at their highest level. In short, your IT partner will serve as a one-stop-shop for all your IT product needs.
We recommend that your small business contact your IT Support partner and thoroughly discuss the LCR process. Their product sales team will work closely with you to ensure that your company has the IT tools you need and the proper LCR plan in place to best achieve your organization's unique objectives.