During the holiday season, everyone tends to reflect on the value of having peace of mind, which is important in business as well as in people's lives. One beneficial tool that will make your small business breathe easier when considering real risks is cybersecurity insurance.
How Big is the Cybersecurity Threat?
The cybersecurity threat to small businesses is considerable. Some statistics that underline why your company should take this danger seriously and take steps to protect your company are listed below:
43% of cyberattacks target small businesses. This percentage will only continue to increase as bigger companies invest in more effective cybersecurity measures.
The estimated cost of cybercrime for 2019 will be more than $2 trillion.
The average cost of one breach of a small to medium-sized business is $117,000.
60% of small businesses go out of business within 6 months of a successful cyberattack.
Ransomware Impact
Two recent examples show the bad things that can happen as a result of a successful ransomware or similar malware attack. A private school in Canada was the victim of ransomware, which they refused to pay. The school hired an IT security firm to restore their network's functionality, but they were still trying to get back to regular operations more than a week after the attack with considerable financial and operational impact. Similarly, a small hospital in Nebraska was infected by ransomware, which they tried to overcome with their internal IT staff. The breach disrupted their emails and internal communications, which resulted in the cancellation of all services but emergency procedures for an uncomfortable time period.
As demonstrated by the incidents and statistics above, ransomware and other cybersecurity threats have impacted every type of small business, and it makes sense to have an array of defenses to deal with them. Cybersecurity insurance is an important component of your overall defenses.
What is Cybersecurity Insurance?
Cybersecurity insurance is a risk management tool that comes in various forms with the main goal of mitigating the impact of any malicious cyber events. There are three main types of cybersecurity insurance policies as described below:
First, one type of cybersecurity insurance policy works in the traditional insurance way. These policies will directly reimburse your company in the event of cyber-related incidents such as malware attacks, data breaches, and any other events that affect your clients or other company-related partners or vendors.
Second, there are cybersecurity policies that can be used as a third-party insurance product. These policies cover any associated businesses or people that are found to be responsible for a breach or other disruptive cyber event.
Finally, one type of cybersecurity insurance can be used as part of an important backup system in the event of an infection. If there is a successful network breach, this policy will provide comprehensive financial and legal protection for your small business. This service protects your company by covering a good-sized payment amount (up to $10,000) to meet any ransomware requests. In some cases, the cost of reaching a small settlement is far less than updating or upgrading compromised IT assets. One must also consider the damaging cost of the stain on your company's reputation caused by the corruption of sensitive client data. It also makes sense to quickly eliminate the potential danger of a breach that would result in expensive downtime.
Compliance Requirements
It is sometimes necessary for small companies in certain industries to have cybersecurity insurance in order to fulfill compliance requirements. For example, if your business works with sensitive client information in the healthcare or financial sectors, you will likely be required to have cybersecurity insurance to comply with HIPAA and FINRA regulations, respectively. In addition, if your business works with companies in the European Union, you will need to implement some forms of cybersecurity insurance to comply with the GDPR. These strict regulations dictate how companies store customer data as well as how they must react in the event of a data breach.
Consult with an IT Expert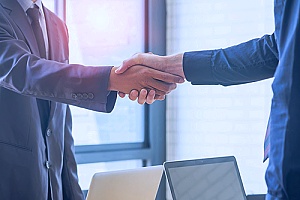 The most important recommendation we can give any small business is to take the time to consult and work with a trusted IT Support partner, such as Network Depot, regarding cybersecurity insurance policies and the role they should play as key components of an optimal cybersecurity environment. Your IT partner will help you select and implement the right services in this area that will work best for your unique business. With the assistance of a skilled IT partner, your organization will be able to feel confident knowing that you are well-protected against cybercriminals. With their help, you will be able to achieve a greater peace of mind and keep your focus on achieving your unique business goals.