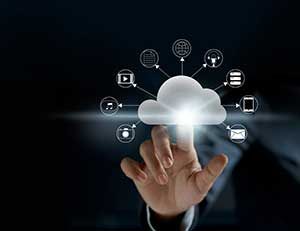 In the 2014 movie Sex Tape, Cameron Diaz and Jason Segel argue in their car.
"How do you forget to erase your sex tape?" Diaz scolds her on-screen husband, firm hands gesticulating angrily.
"It kept slipping my mind," Segel says, flustered. "And the next thing I knew: it went up!" Segel declares. "It went up to the cloud!" He glares at the car ceiling, toward the sky beyond, the sky that, in his mind and the minds of many, harbors the ever elusive, all-powerful, omniscient cloud.
"You can't get it down from the cloud?" Diaz asks.
"Nobody understands the cloud!" Segel snaps. "It's a mystery!"
For many of us, the cloud might as well be that: some formless, possibly sentient thing that sucks-up all of our data and shares it wildly across the world. Though the perfect gaffe for a Hollywood comedy, the cloud is actually an incredibly sophisticated piece of secure technology. And no, you won't find it floating in the sky.
The Cloud: what's it made of?
Physically, the cloud is a network of servers. Each server within this network has a highly specialized function. Some servers specifically store data while others specifically manage applications or deliver services. These servers are so advanced, they can run the most complicated, up-to-date versions of bulky software. For instance, the cloud is responsible for Adobe Photoshop, Amazon, Netflix, and Google Drive.
The cloud is massive, and stored throughout data warehouses scattered across the world. The cloud ensures all of your data is backed-up and available anywhere at any time. With the cloud, your data is safe, your work is untethered, and your programs are always updated.
The Cloud: what does it do?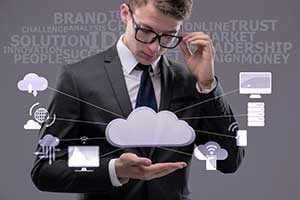 The cloud is the reason you can pause Netflix's House of Cards on your TV and pick-up right where you left-off on your phone. The cloud is the reason you can share your rocking "Super Summer Playlist" to your best girlfriend five states away. The cloud is the reason you can videotape your child's first birthday and share it, live, with Grandpa in Germany.
But the cloud isn't only for being up-to-date on the shenanigans of your Aunt's kitten, Mittens: the cloud can dramatically improve the functions, and efficiency, of your work or business. Instead of running your services and software from a specific, localized hard drive, you manage everything through the cloud via the internet. The cloud increases you, or your workers', accessibility to all pertinent data and ensures all work is saved, all software is updated, and anyone who has access can easily collaborate.
For example… Using Google Docs on your laptop, you draft a brief proposal during breakfast. With every letter you type, the cloud is automatically saving your progress, even tracking your changes and allowing you to revert back to any version of the document you need. Later, during your commute into work, you have a new idea for an addition to your proposal. Instead of hauling-out your laptop on the Metro, you can open your proposal on your phone and make swift changes using the ease of the cloud. By the time you've made it to the office, Bill (your company's self-appointed Hemingway) has already made necessary changes to the proposal on his own computer. You decide to share access with Sarah, who quickly scans the proposal, complete with all of Bill's accepted revisions, before giving you a thumbs-up. Your proposal is not only ready to be handed into your boss or client, it is the best proposal possible–it has been worked on collaboratively and revised efficiently, wasting no time or resources in the process.
The cloud ensures your work is never lost and your data is always backed-up. With the cloud, your company is more organized, and enabled to work more collaboratively and effectively. Your applications and software are more dependable when operated through the cloud, and because the cloud is constantly updated you don't have to wait for the yearly roll-out of improved versions of software. With the cloud's many servers, you're not at risk of the system crashing, and with the clouds nearly limitless scalability your company can grow, adapt, and extend their resources with ease.
Storage & The Cloud
With the cloud, you no longer have to worry about bulky storage devices and complicated means of transferring data. With the cloud, you don't have to worry about emailing yourself the document and clumsily scrolling through your inbox to find it later in the day–you won't have to filter through attachments, or bother with thumb-drives, or CD's, or floppy disks (you hipster!).
The cloud automatically updates everything–your work, your data, your software–and it can all be accessed anywhere and with any device as long as you're connected to the internet. Gone are the days of spending hundreds of dollars on external hard drives with their limited storage capacity and inconvenient locality. The cloud's streamlined process for storage keeps you organized and keeps your work easily accessible, helping you to work more effectively.
Furthermore, the cloud is unmatched in sheer storage capacity. The cloud can store an astounding 1 exabyte: the equivalent of 268.4 million 4GB flash drives, or the equivalent of 1.6 billion 700MB CD's, or the equivalent of 763 billion 1.44MB floppy disks (checkmate, hipsters!).
Security & Privacy & The Cloud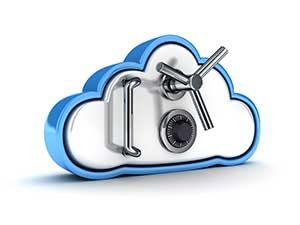 Though your data may be secure when stored in the cloud, it isn't necessarily private. Because the servers belong to a third-party, anything you store, operate, or otherwise utilize on the servers belongs to that third-party. This doesn't mean ownership as much as it means management–when you want data removed you are required to work through the third-party owner because the data doesn't exist on your hard drive, it exists on theirs.
When something is uploaded to the cloud it lives there. This makes some users wary of the cloud, worried that if something is shared it can never truly be deleted. Because of this, it is generally recommended that users do not use the cloud if their information is sensitive. However, managers of the cloud have recognized this as a common user concern, and have begun to adapt their services to fulfill user needs. For instance, Google is beginning to offer data encryptions for paying storage users.
Three Main Kinds of Cloud
All forms of the cloud function same way, but vary in user limitation. Each version of the cloud will provide you with quicker functions, greater efficiency, and at less cost than traditional software, hardware, and sharing networks. When using any kind of cloud, your resources can be easily integrated into your existing infrastructure, and updates are automatically applied.
Public Cloud
The public cloud is The Cloud, as it has been previously referred to. Utilizing all the functions, features, and benefits we've previously explored, the public cloud is available to anyone at anytime and anywhere. The public cloud widens your network barriers, provides you with limitless storage, and the most sophisticated software. The public cloud covers everything from Dropbox, to Google Drive, to Netflix. The public cloud is convenient and reliable. With the public cloud you are not at risk of hardware failure, loss of documents, or complicated information sharing.
Personal Cloud
If you're still worried about security and privacy of the public cloud, but you don't want to loose its ease and efficiency, then the personal cloud is for you! The personal cloud collaborates with your wireless router, compiling data from every device connected to your specific WiFi. The data saved to your personal cloud can only be accessed by a device that is connected to the same WiFi. Though, if you want to access the data away from your personal cloud WiFi, there is an app for that.
Hybrid Cloud
The hybrid cloud combines two or more clouds, public or private, across different service providers. The hybrid cloud is incredibly customizable, and can fulfill any of your business network needs. Using the hybrid cloud, highly sensitive information can be stored privately but accessed safely via a service stored on the public cloud. With the hybrid cloud, you get the best of both worlds: the privacy of the personal cloud combined with the unmatched computing capacity of the public cloud. With the hybrid cloud you can also utilize a function called "cloud bursting" where you run an application on your personal cloud and if it needs to grow beyond capacity it "bursts" to the public cloud to adapt.
With all of its convenient, reliable, and sophisticated functions and benefits, the cloud centralizes your company. When you implement the cloud into your business, you're getting data reliability, superior software, greater accessibility, flexibility, and scalability–all of which enhances your workers' effectiveness, and your business's efficiency.
Reasons your business should use the cloud:
Adaptability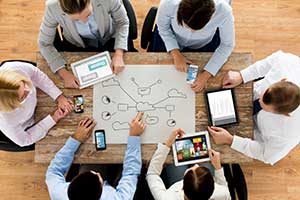 Your work, software, infrastructure, and devices are easily adaptable to your needs. Your infrastructure can grow or shrink as it needs to, and the cloud's awesome computing capabilities means you're never limited.
Scalability
Using the cloud, you dramatically increase your peak capacity. Capacity can also easily fluctuate to match your company's needs without burdening you with redundant, expensive software.
Focus
With the cloud, your data, software, and services are well organized and easily managed, meaning your workers can focus more on their task at hand without being overwhelmed by out of date software, or clunk sharing techniques, or missing data. With the cloud's efficiency, your workers will be more focused, and more effective.
Availability
Authorized users can access your data anytime, anywhere. With the cloud's availability, work can be completed more timely and effectively. The cloud unchains you from the limited processing of a computer and the inconvenience of an external hard drive.
Flexibility & Mobility
In this mobile, fast-paced world, your business cannot afford to fall behind. With the cloud, work can be completed and shared all over the world, fostering business communities and bettering communication. The cloud's mobility streamlines business that requires workers to travel locally or across countries. Even the cloud's cost structure is flexible, ensuring your business can always adapt.
Cheaper Overall
The cloud allows your company to fully utilize hardware and updated software. Using the cloud gives your company the greater control over your data centers and IT departments. Your business also won't be burdened by the expenses of sophisticated, localized hardware.
With the cloud, expensive capacity doesn't sit unused during non-peak times, and you won't have to buy the new versions of the software you need every year.
Fosters Better Collaboration
With the cloud, files, documents, and data can all be shared with ease, across time-zones, countries, and devices. This encourages focus and organization, as workers can collaborate over a single document, manage a shared calendar, and easily track project progress.
Reliability
The cloud offers services that are available 99.99% of the time. As long as you have internet connection, you have access to all of your data. There are even applications run through the cloud that you can access and utilize offline.