As your organization heads into 2023 with optimism and some concern after another challenging year, it is an excellent time to look at the most important technology trends for the near future. By being familiar with and better understanding these trends, your organization will be well positioned to succeed in the upcoming year.
Cloud Dominance Continues but Edge Computing Will Grow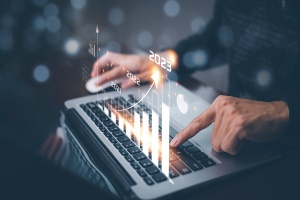 IT experts agree that the current domination of the cloud will continue, but an alternate technology known as Edge computing will become more important.
More tools and functions will be available or improved through the cloud, and businesses will need to work hard to stay informed about which "as a service" offerings will function best at their organization. We recommend you consult with a trusted IT Support partner to assess which of the latest cloud services will be beneficial for your business.
Business leaders should also learn more about Edge computing, which can complement or improve upon the cloud's services. As more data is being processed and stored in business and everyday life, the distant data centers that host the cloud are being pushed to continue their high rate of performance. The strain on these data centers has caused problems such as latency and data security issues. Edge computing uses network gateways and smart objects to process and store data near the endpoint location.
To solve the problem of increasing data and network traffic impacting performance, companies are now focusing on the development of distributed cloud computing, where a company's data is stored, processed, and transferred from different data centers and locations to increase network efficiency. IT experts predict that a massive amount of local edge data centers and edge servers will be built and deployed to form a distributed cloud infrastructure to complement and improve on current network performance.
Artificial Intelligence and Machine Learning Will Improve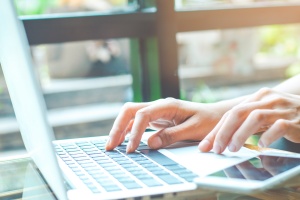 IT experts are confident that advances in Artificial Intelligence (AI) and Machine Learning (ML) will be even more helpful for business efforts in 2023 and beyond. AI and ML technology can analyze massive amounts of data quickly and comprehensively, which makes it possible for businesses to improve their resource utilization, customer service, and cybersecurity.
This powerful technology will continue to improve allowing organizations to automate additional tasks. When an organization automates more tasks, they will save precious time and money. As a result of greater automation, a company will be able to allocate more of their resources to activities they consider more important.
Blockchain Technology Will Become More Widespread
Although most people think of cryptocurrency when they hear blockchain, businesses will increase their use of this technology for a variety of useful purposes in 2023.
What makes blockchains so secure is that data can only be added to them, and no data can be changed or taken away from these chains. In addition, no one entity can take control of the data in the chains, which makes them even more secure.
Blockchain technology works well for companies dealing with sensitive data as it minimizes data breaches and improves data transparency. Logistics companies are also using it more widely to track shipments and monitor their cross-border commerce.
Business Will Expand Use of IoT and IoB
The global spending on the Internet of Things (IoT) is forecast to reach 1.1 trillion dollars in 2023. Experts predict that by 2030 there will be at least 50 billion IoT devices in use by businesses and consumers resulting in an enormous web of interconnected devices of different types. This technology enables real-time data analysis and automates processes, which helps organizations improve their productivity, communication, and customer service.
One new trend that is springing from the spread of the IoT is known as the Internet of Behaviors (IoB). Companies are increasingly using the IoB to interpret the massive amount of data collected by the IoT to influence their customer or employee behavior. The growth of the IoT market and AI technology combined with the power of edge computing to collect and store more data will enable companies to process behavioral data more effectively. As a result of this trend, Gartner predicts that 40% of people worldwide will be influenced by the IoB in 2023, and this figure will only grow in the future.
Virtual Reality and Augmented Reality Will Be More Important
Businesses will make greater use of virtual reality (VR) and augmented reality (AR) to enhance various aspects of their organizations. Experts predict that the market value of this technology will reach $160 billion in 2023 and grow 18 % annually up to 2029.
Companies are employing VR for more realistic training sessions, product expos where staff and clients can experience products and services in diverse ways as well as for enhanced virtual meetings to improve the morale and productivity of remote work teams.
Augmented reality, which combines real and virtual worlds and spans multiple sensory modalities, will help companies in many ways. Key benefits of AR include enhanced product development and remote customer support as well as improved logistics and manufacturing efficiency.
Privacy-enhancing Computation Will Become More Common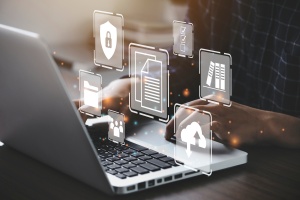 Cybersecurity issues will remain paramount for businesses in 2023 as cybercriminals are currently costing the global economy $16.4 billion per day. As a result of this growing threat, companies have developed innovative technologies and frameworks to assist businesses in meeting their cybersecurity challenges.
One interesting recent technology trend that is different from traditional data protection is known as privacy-enhancing computation. This type of software actively protects data while it is being used, even by third parties that might not have sufficient security frameworks in place. These technologies are important as they allow businesses to collect important and sensitive data while also ensuring consumer privacy protections are in place. The need for this type of technology will continue to increase as consumer privacy regulation grows around the world.
5G Subscribers Will Increase
IT experts predict that the entities subscribed to the 5G mobile network will increase up to 3 billion by 2025. The powerful 5G network enables businesses to have faster access to applications and greater processing speed on a larger number of connected devices than 4G. This network will be crucial for support of the growing use of IoT by businesses.
Consult with an IT Support Partner
To effectively make use of your knowledge of these important IT trends, we recommend you consult and work closely with a trusted IT Support partner, such as Network Depot. Your IT partner will help you select and implement the right tools and solutions that will work best for your unique business.
By understanding these trends and with the assistance of your trusted IT Support partner, your business will be up to date with your applications and processes. Secure with this critical knowledge, your organization will be able to keep its focus on carrying out your unique mission.