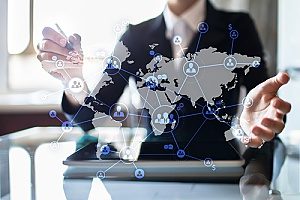 As remote work becomes a more common option for employees, the dependence on virtual teams is growing accordingly. With the use of virtual teams rising steadily, small businesses need to understand how to best use relevant technology to reap the most benefits from their efforts.
Noted business magnate and entrepreneur Richard Branson predicted in 2014 "One day, offices will be a thing of the past." Although that day hasn't been reached yet, there is an undeniable movement toward more remote work and a sharp rise in the use of virtual teams.
In this blog post, we will explain what virtual teams are, why they are important, and how your small business can use technology to help overcome the challenges they present and realize their value to your company. We will also list some of the most popular and well-regarded technologies being used in various work function areas to make virtual teams work more effectively and efficiently.
What is a Virtual Team?
A virtual team can be described as a group of geographically or organizationally dispersed employees that are brought together using some combination of telecommunications and information technologies to accomplish necessary work tasks and objectives. These groups rarely, if ever, meet in traditional face-to-face settings.
Why Are Virtual Teams Important?
The simple answer for why virtual teams are important is that they amplify the value of remote workers. The benefits of remote work are well-established: lower infrastructure and IT costs, greater employee flexibility, improved employee morale and less downtime, significantly higher worker productivity, and the access to talented workers worldwide.
Virtual teams make it possible for your small business to connect your skilled workers wherever they are located. Highly functioning virtual teams lead to seamless remote work results, which will help your company in all areas. By using the right IT options with your virtual teams, your employees will be able to collaborate and work as effectively or better than in face-to-face meetings.
What are the Challenges of Virtual Teams?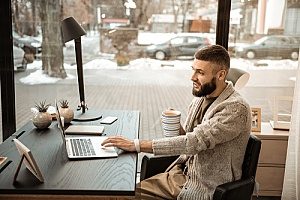 As technology steadily improves to make virtual teams run more smoothly, there will still be challenges that need to be overcome. Some challenges that your company managers should pay particular attention to are described below.
Sufficient management skill concerning virtual team management
As difficult as it is to be a manager at a small business, it can be even more challenging to overcome the obstacles presented when managing members of a virtual team. Your managers will need to be skilled in supervising and leading people they may never have met in person. They also will have to deal with conflict resolution issues, mentorship and supervisory duties, and employee accountability without direct interaction.
The answer lies in maintaining a high level of skill in traditional management techniques enhanced with even more attention to individual and group communication skills. There also needs to be a strong understanding on the capabilities of virtual team technology and how to best execute relevant applications. Your company should provide sufficient management training as well as a proper budget for virtual team technology and training in order to meet these challenges.
Sufficient virtual team applications training for team members
Managers need to ensure that employees are well trained in the use of various virtual team applications and be aware of when new and better technology becomes available. They should also make a point of listening to their employees' feedback on technology and typical work issues (particularly from the growing workforce of millennials).
Virtual employee engagement
Your small business needs to emphasize that your virtual employees feel engaged in the company and a part of your organization's objectives. Even though virtual team members work remotely, your managers should continue to regularly reach out to them to learn about any issues or concerns they have with their job as well as with the company's work as a whole. In addition, individual achievements and milestones should be acknowledged in group communications and during virtual team meetings. Your small business should work to build and maintain a supportive team atmosphere and should ensure that team members feel like they are part of a team working toward the same worthwhile goals.
Popular Technologies to Make Virtual Teams Work Most Effectively
Some great tools to use on the important functional areas of virtual teams are described below.
Video and audio conferencing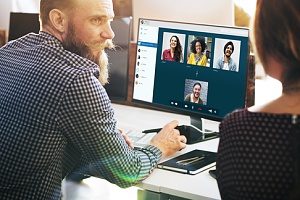 This essential function is what makes a virtual team meeting as similar to a face-to-face meeting as possible. Conferencing technology continues to improve, which makes crystal clear video and audio communication possible around the globe.  These tools also offer many typical meeting features such as presentation options, chalkboard, and chat.
Some highly-regarded video and audio conferencing tools include: Cisco Telepresence, Polycom Telepresence, and Logitech Lifesize. Other effective tools in this area include: Skype for Business, Join Me, WebEx, BlueJeans, Zoom, and GoToMeeting.
Collaboration and document sharing
Web-based tools allow team members to easily access and store documents on a central hub. Virtual team members can work individually on files as well as collaborate simultaneously to produce improved deliverables.
Some recommended collaborative tools include Slack, Dropbox, Onehub, Zoho Docs, WebEx Teams, Microsoft Teams, Blackboard Collaborate, ActiveCollab, SharePoint, Google Drive, Redbooth, Huddle, Podio, Goplan, Lighthouse, and Box.
Virtual team building
As discussed earlier, one of the main challenges presented by virtual teams, is how to maintain a sense of a group identity and a feeling of being part of a valued team. Luckily, there are some applications designed for virtual team building that use games and shared tasks to train remote workers in this area. Remote workers can use these tools to learn how to best use virtual team technology, enhance their communication skills, and build their trust in fellow team members.
Some well-regarded virtual team building applications include VirtuWall, MiniTreasure, Prelude, and Quizbreaker.
The rise of remote work and the importance of virtual teams is an unstoppable wave of the future. Understanding this trend and knowing how to best realize the value of virtual teams through technology and effective management are crucial for your company's future success. We recommend you speak with a trusted IT support partner such as Network Depot to learn more about this interesting topic, which will help you more effectively achieve your organization's objectives.