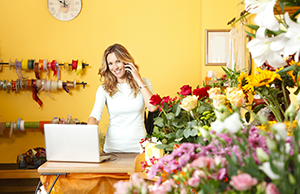 We all know about Black Friday, that day after Thanksgiving when you can get the most amazing deals of the year at retail stores. But, how many of you have ever heard of Small Business Saturday?
Small Business Saturday was started in 2010 by American Express. It is a day where you are encouraged to "shop small"- visit your local retail stores and restaurants, and show your support for small businesses by shopping at them.
Network Depot is definitely a supporter of small businesses. Aside from the fact that our clients are all small and medium-sized businesses, we know just how important local shops are to their communities. In fact, during National Small Business Week we even wrote this blog post, "7 Things We Love About Small Businesses".
Now, we're not against all the wonderful deals you can get by shopping on Black Friday (that is, if you have the patience to brave the lines and the crowds), but we wanted to encourage you to get out on Saturday too, and to show your support for the small businesses in your neighborhood. So here are a few reasons why small businesses are so important:
Innovation
Have you ever had a cross between a pretzel and a cream puff? Well, you're going to be hard-pressed to find it at the Starbucks on the corner. But, head over to your local bakery, and you are likely to find all sorts of great creations. Small businesses provide the opportunity for creative people to realize their creativity. It is nearly impossible to do this in franchise companies like Starbucks, because there is a set method and formula they follow, which is as it should be, because whenever you go into a Starbucks, you know exactly what you are going to get.
Benefit to the Local Economy
When you support small businesses, you are essentially supporting your own community. From a purely financial standpoint, when a local business increases their revenue, they are going to have to pay more taxes, including local taxes, which then go to fund things like local schools, etc. So, by shopping at a small local business, you are contributing to the growth of your local community.
Job Opportunities
Small businesses will have more job opportunities available, and will be able to hire people that may not be eligible to work for large, international corporations.
Relationship-oriented
Because small businesses have the flexibility to be more relationship-oriented than larger corporations, they are able to make greater contributions. Not only will they be much more customer-focused, which means better service for their clients, but they also will be able to treat their employees better. They will be able to provide higher wages and better benefits, which their employees will then turn around and funnel back into the local economy.
So, when Black Friday is over and you have had your fill of crowds and clearance items, spend some time on Saturday to pop by your local coffee shop or clothing store. Show your support for the small businesses in your community, let them know you understand their importance.