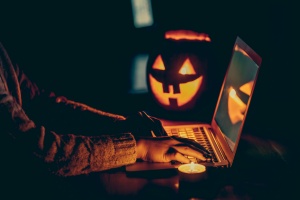 As you finish selecting your perfect costume for a much needed in person Halloween party, it seems like the ideal time to really get spooked with some alarming cybersecurity statistics and predictions.
Our Halloween article on cybercrime is an annual tradition, and the worst part is that the cybersecurity threat only continues to grow for small businesses. The lingering COVID-19 pandemic and the continued reliance on remote work has caused 2021 to be the most negatively impacted year ever for small businesses in terms of cybercrime. The cybersecurity challenge is only expected to grow into the foreseeable future.
In short, your organization has never faced a higher risk of suffering from the costly effects caused by hackers and other cybercriminals. In the event that your organization is not investing sufficient resources in strong cybersecurity measures and assistance from a reliable IT Support partner, we recommend you take a moment to read through some gloomy information that has been reported by experts in the field.
Scary Cybersecurity Statistics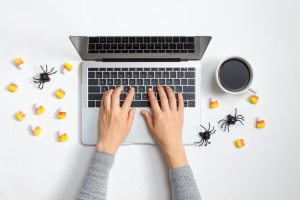 The disturbing statistics below were reported by Verizon, Cognyte, ITRC, Cyber Magazine, McKinsey Insight, vpnAlert, CSO Online, Varonis, Bull Guard, Mission Critical Magazine, and Fundera.
1. Global cybercrime is expected to inflict a total of $6 trillion in damages in 2021 and will reach or exceed $10.5 trillion by 2025.
2. Cybercrime is up at least 600% because of COVID.
3. In 2020 nearly 7 million new phishing and scam pages were created with the key themes being COVID, gift cards, and games, and 2021's results will be even worse.
4. In the first half of 2021, the number of ransomware attacks doubled compared to 2020. Experts estimate there was an attack every 11 seconds in 2021, up from every 40 seconds in 2016.
5. Supply chain cyberattacks rose by 42% in the first quarter of 2021.
6. The increasing spread of the Internet of Things (IoT) is also bringing more cybercrime as the average device suffers 5,200 attempted attacks a month.
7. 70% of security executives believe their budgets will be reduced in the next year making cybersecurity and compliance even more difficult. Only 37% of security professionals say their organization values and effectively leverages their expertise.
8. It takes an average of 315 days to detect and contain data breaches caused by a cyberattack.
9. The average cost of a data breach has risen to $3.86 million with the average lost business in the aftermath of a cyberattack at $1.52 million.
10. The average ransomware fee demanded has risen to $170,000.
11. 35 million cybersecurity jobs went unfilled in 2021.
12. 33% of US workers admit clicking on at least one phishing link.
13. 85% of cybersecurity breaches are caused by human error.
14. 94% of all malware is delivered by email.
15. 64% of Americans admit not knowing what steps to take after being notified of a data breach.
16. 43% of small business haven't adopted cybersecurity assessment and mitigation plans. 33% use free, consumer-grade cybersecurity tools to protect their networks, and 20% use no cybersecurity tools at all.
17. 32% of enterprises experienced unauthorized access to cloud resources and another 19% were unaware if unauthorized access had occurred.
18. 62% of Company leaders say data loss with one of their cloud solutions would have a moderate or major impact on their business because they have either no backup solution or a complex one.
19. 75% of small businesses report they don't have the personnel to effectively address IT security.
20. 43% of cyberattacks target small businesses. 20% of small businesses will fall victim to a successful cyberattack, and 60% of them will go out of business within six months of the incident.
Consult With An Expert On Cybersecurity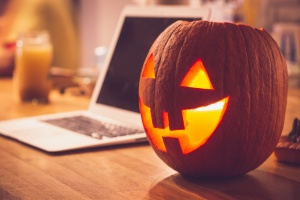 Our most important advice to deal with the daunting challenges presented by cybercriminals can be summed up succinctly: Train your staff in following good cyber hygiene and work closely with a trusted IT Support partner, such as Network Depot, to ensure that your organization is well protected against cyberattack. You can also work with a reliable IT Support partner to ensure that your organization has the comprehensive cybersecurity structure and tools in place to fulfill IT security compliance requirements.
When you are through assessing these depressing statistics, we also recommend you seek some stress relief through the enjoyment of Halloween activities and some of your favorite treats. After this difficult period, we could all certainly use some fun as well as quality time with friends and family.
Happy Halloween 2021!!